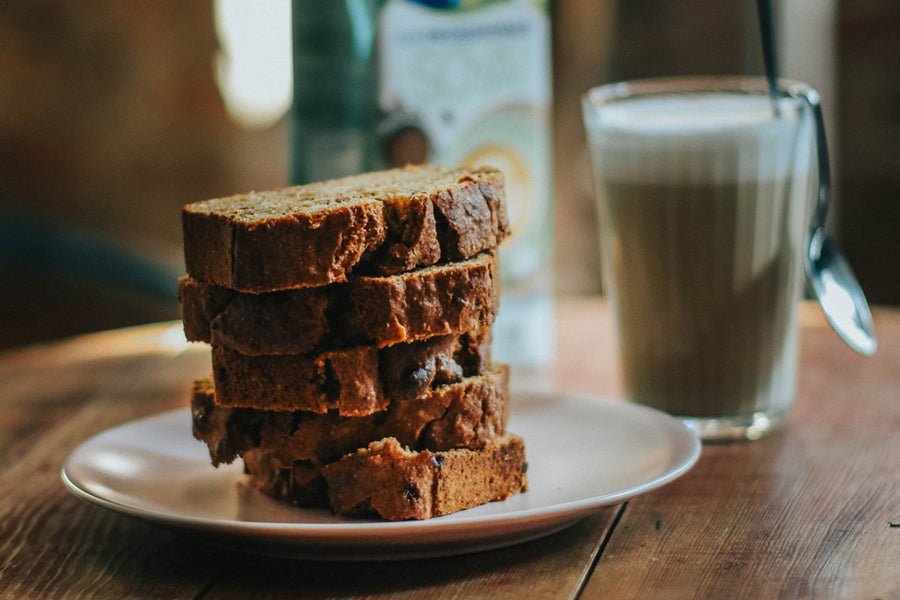 Simple Earl Grey Infused Banana Bread
There is nothing like a soft, warm, and cozy slice of fresh baked banana bread. We came up with this tea inspired recipe that highlights Earl Grey. While you can use any of our varieties of Earl Grey, I made this using our Organic Kingston Earl Grey.
1/2 cup of double strength Earl Grey (2 tsp loose leaf or two teabags)
1 cup sugar of choice
1/2 cup melted coconut oil
2 eggs (vegan version: 1 cup of unsweetened applesauce)
3 mashed ripe bananas
1/4 cup Greek yogurt (vegan version: kite hill's almond based yogurt)
1 teaspoon vanilla extract
1/2 teaspoon cinnamon
2 1/2 cups flour
1/2 teaspoon baking soda
1/2 teaspoon salt
Preheat oven to 350F. Grease a medium-sized loaf pan with coconut oil.
In a large bowl, combine sugar, melted coconut oil, eggs (or applesauce version), bananas, yogurt, tea, vanilla extract, and cinnamon until well mixed. Gently mix in flour, baking soda, and salt just until combined.
Pour into pan. Bake approximately 1 hour or until knife inserted into center comes out clean. Cool before serving.
This loaf was a huge hit at our household and we went through it very quick. A double batch might be in store for next time. I plan on trying the rooibos chai version as well in the future.