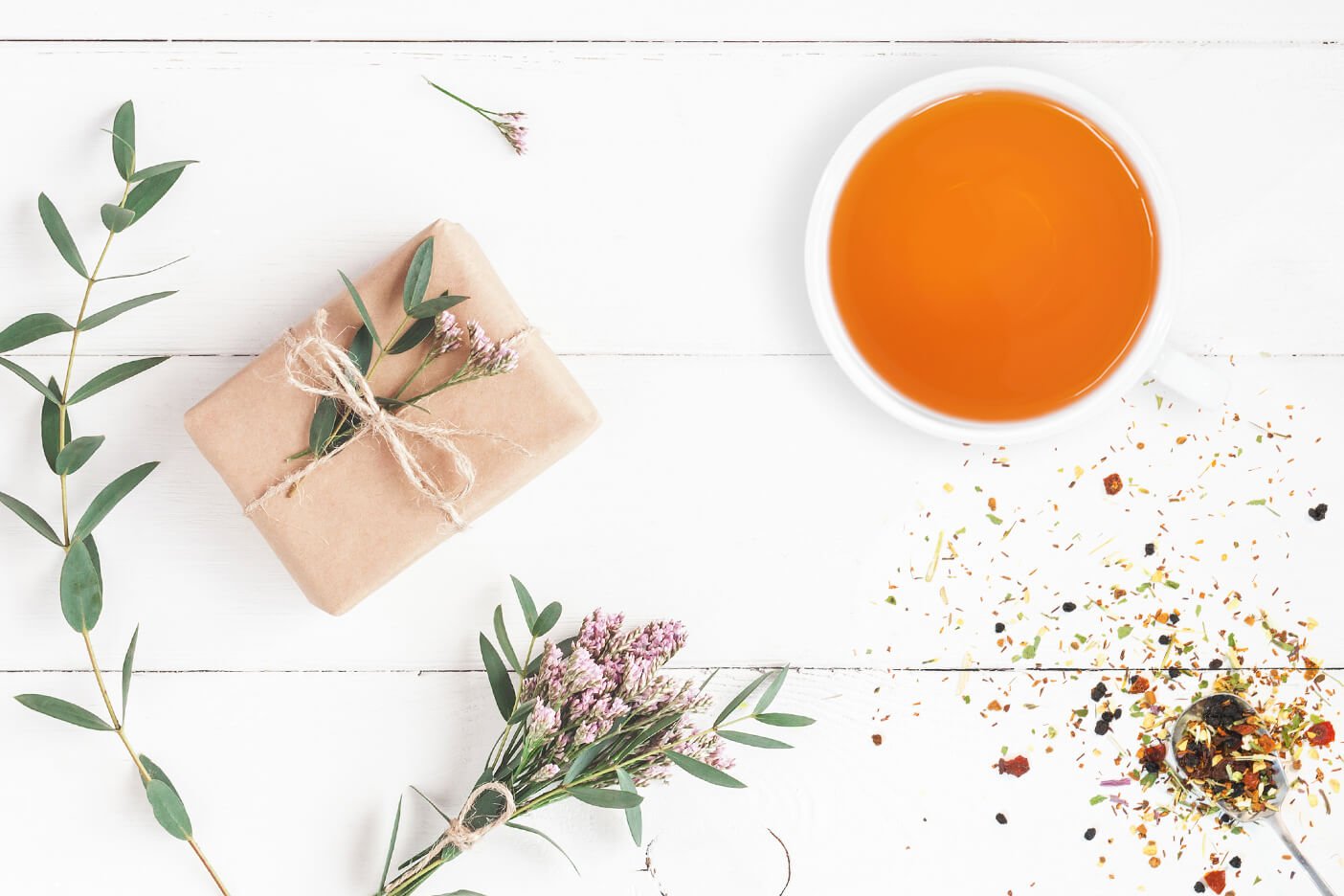 2020's Gift Guide For Tea Lovers
Maxwell Finch
2020 has been a whirlwind of a year. With social distancing and limits on gatherings, discovering what to gift your friend or family member is more challenging than ever!

We've curated 11 tealicious teas and accessories that have historically made great gifts!
Wellness Teas For Loved Ones
Flu and cold season is fast approaching, and there's no better gift than a cozy wellness tea developed to fight these pesky bugs! This year we've released two new wellness teas to go alongside our five fan favorites.
Feel Better On-The-Go Kit
Throat clarity, Immunity blend, and our Vacuum Infuser Flask make this a fantastic gift for this season. Our throat clarity tea is formulated to soothe sore throats and help with infections and inflammation. Immunity blend is blended to help prevent sickness and aid in relief. They work together to provide ease and comfort while providing a delicious aromatic flavor.
Shop →
"
Organic Lung Health Tea
Designed to help you breathe easier and deeper, Lung Health tea has been a hit within our Full Leaf family. Lung health is composed of several herbs, which are excellent for overall lung health and breathing. Ginger root and licorice root give this herbal tea its cozy flavor.
Shop →
NEW! Organic Cold Remedy
We're super excited to release our Organic Cold Remedy tea. Blended with cinnamon, rosehips, elderberry, and ginger – this caffeine-free tea is sweet with a little spice. Packed with vitamins and antioxidants, this tea is excellent for cold prevention and relief.
Shop →
For Health and Fitness Fanatics
Not only are we always watching what we put in our diet, but we also admire what gives us the most benefits efficiently. Below are a couple highly nutritious and caffeine-packed options for the health and fitness buff in your life!
Healthy Tea Program - Fitness
Those looking for the best tea fitness bundle should look no further than our Healthy Tea Program's Fitness bundle! Organic Premium Matcha and Organic Live Fit, two teas known for their ability to boost energy and metabolism, bundled with our vacuum flask infuser and 30-day calendar to keep track of your progress.
Shop →
Fitness On-The-Go Kit
Our on the go kit is similar to our healthy tea program's fitness bundle above but without the calendar or spoon. Organic Premium Matcha is packed with caffeine and antioxidants, not only making this a perfect alternative to coffee but also helping your pre-game workout routine. Organic Live Fit's smooth citrus taste contains caffeine, antioxidants, and vitamins needed to aid in post-workout recovery.
Shop →
For Those With A Sweet Tooth
As I grow older, I've come to really appreciate exercise and watching what I put into my body. Still, something that hasn't gone away with age is my sweet tooth. Just because you have a sweet tooth doesn't mean you can have a little fun while maintaining a healthy diet!
Organic Passion Tea
Rooibos, Hibiscus, and Lemongrass give this tea a super fresh flavor with a soothing sweetness. Lemongrass's sour kick is a delight, but not overpowering. This tea is caffeine-free, making it a relaxing treat before bed!
Shop →
Organic Pink Grapefruit Tea
White tea, Hibiscus, and Grapefruit essential oils make this tea a fun, fruity take on white tea. White tea is lightly oxidized, which helps it retain a light, delicate flavor profile. Hibiscus and Grapefruit build on white tea, giving it a sweet flavor with a tart aftertaste.
Shop →
Tropical Escape
This tea is not organic, but it is one of my favorite fruit teas! With bits of pineapple, apricot, peach, papaya, cranberry, mango, and hibiscus – every sip is sweet and tangy like taffy, but without the harmful sugars and substitutes! This tea is caffeine-free and is a favorite of mine during a more relaxed evening!
Shop →
For The Classic Tea Lover
There's something special about enjoying a classic blend such as Earl Grey or a single ingredient herbal like Chamomile or Peppermint. Here are a few of our collective favorites we think would make a perfect gift!
Organic Earl Grey
Made with black tea and bergamot essential oil, earl grey is a rich, smooth tea widely known and adored for its traditional flavor.
Shop →
Vanilla Tea
Light, smooth, and sweet – our black vanilla tea is an exquisite taste and aroma. Packed with caffeine, this tea is an excellent addition for a friend or family member's morning routine!
Shop →
Organic Chamomile
Caffeine-free and soothing, chamomile is adored as a classic herbal tea. Our whole chamomile blooms means fresh, relaxing flavor.
Shop →
Didn't see anything in this guide? We have all sorts of additional options for gifts under $100, gifts under $50, and gifts under $25. We also have a great advanced search function on our homepage that can help you narrow teas by type, flavor, and health benefits!