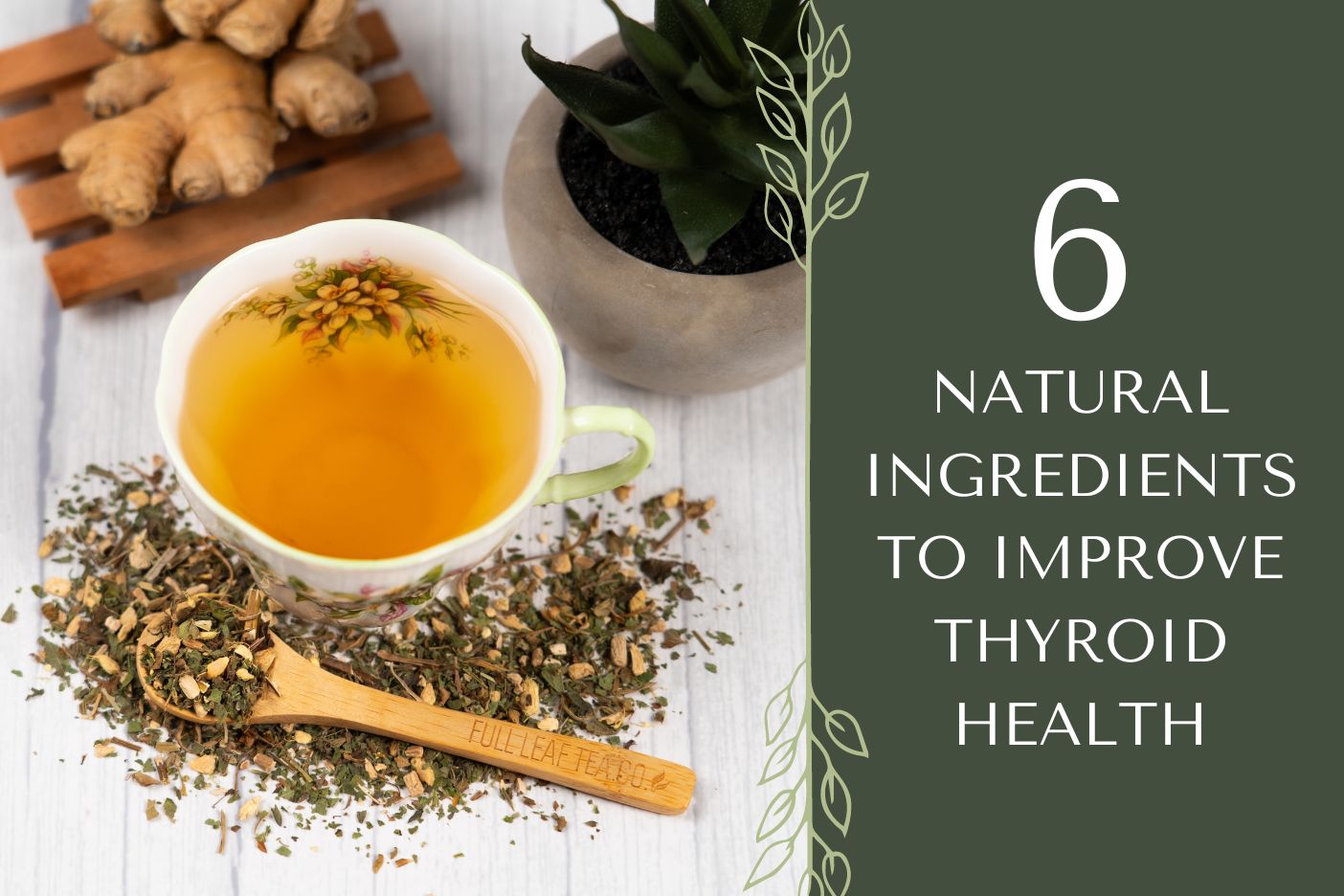 Organic Thyroid Health 🍃 | Tea of the Week
Carly Pearl-Sacks
Hey tea lovers! This week's featured blend is the last in the series of new teas we released this year. Organic Thyroid Health is a mild herbal blend with 6 ingredients to support optimal thyroid function. 
Ingredients
Organic Ashwagandha: Ashwagandha root, a popular herb in traditional Ayurvedic medicine, has adaptogenic properties that can help regulate thyroid function by supporting the body's stress response and reducing cortisol levels. Additionally, ashwagandha's antioxidant and anti-inflammatory properties can help reduce inflammation in the thyroid gland.
Organic Ginger: 

Ginger root, known for its culinary and medicinal uses, adds a spiced flavor to this blend along with similar benefits to ashwagandha. The anti-inflammatory properties in ginger root can help reduce inflammation in the thyroid gland, which is important for maintaining proper thyroid function. Additionally, ginger's antioxidant content may contribute to protecting thyroid cells from oxidative stress. 

Organic Gotu Kola: Gotu kola,

commonly known as Indian pennywort and Asiatic pennywort, is an herbaceous, perennial plant in the flowering plant family. This plant

 has adaptogenic properties similar to ashwagandha that can help regulate thyroid function and balance hormone levels. Gotu kola's antioxidant and anti-inflammatory effects also contribute to reducing oxidative stress.
Organic Holy Basil: 

 

Holy basil, also known as tulsi, has been used in Ayurvedic medicine for centuries to support healthy thyroid function and reduce stress. This herb is also adaptogenic and helps to support hormone balance, reduce stress, and soothe inflammation. 

Organic Lemon Balm: 

Lemon balm is a member of the mint family and is known for its calming effects to combat the stress hormones that are often the cause of thyroid issues. Lemon balm is also high in antioxidants to help reduce inflammation. 

Organic Nettle: Nettle, a nutrient-dense herb, is rich in vitamins and minerals that are essential for thyroid health. Additionally, nettle is great to help support the immune system which can be compromised in some cases of poor thyroid health. 
Recipe
Check out this refreshing and delicious fruity lemonade made with Organic Thyroid Health! 
Video
Watch our video all about Organic Thyroid Health Tea!