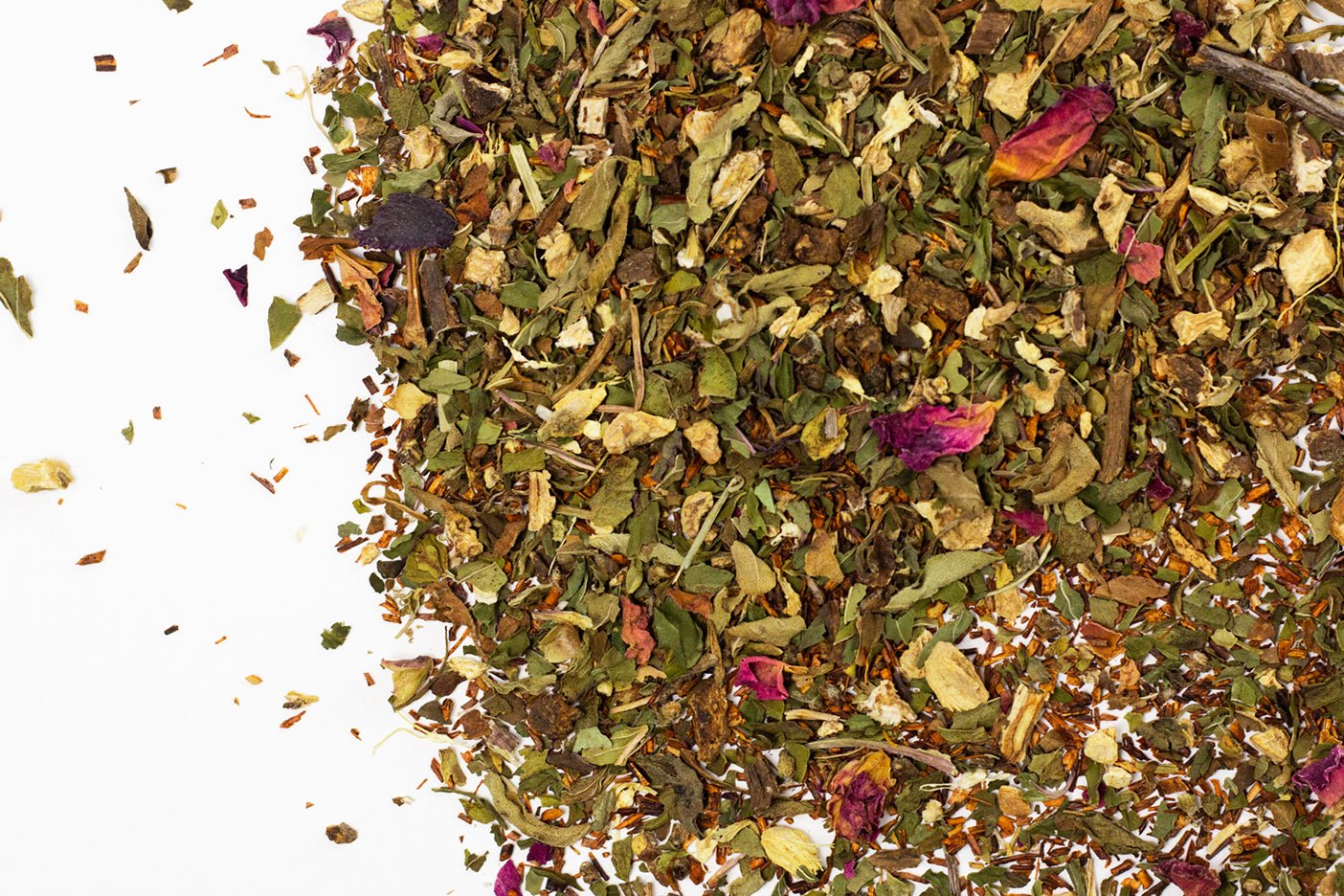 Tea of the Week | Organic Beauty Me Tea 💋❤️
Carly Pearl-Sacks
Tea of the Week
Welcome back tea lovers! This week we are looking at one of our favorite teas that can make you glow from inside out; Organic Beauty Me Tea! This herbal blend is minty and lightly sweet with a warming ginger element. 
Ingredient Breakdown
Organic Rooibos: Rooibos is a South African herb and is the base of this blend. Rooibos has numerous health benefits including having 6 times as many antioxidants as a cup of green tea and contains alpha hydroxy and zinc which are great ingredients for beautiful skin and hair. Rooibos is rich in polyphenols which assist in reducing inflammation along with being a great stress fighter. 
Organic Ginger Root: Ginger has plenty of health benefits but was chosen specifically for this blend for its ability to help the body absorb vital nutrients and increase the effectiveness of this tea. Ginger root is also antioxidant rich and helps fight inflammation. 
Organic Peppermint: Peppermint is known as a calming herb and helps to alleviate stress which can be a large cause of hair loss and poor skin health. In addition, peppermint teas are anti-inflammatory.
Organic Dandelion Root: Dandelion root was included in this blend because it is packed with Vitamin A. Vitamin A is known to help prevent and reduce acne and assist with preventing skin cancer. Additionally, Vitamin A supports the immune and digestive system.
Organic Holy Basil: Holy basil, also known as tulsi, is an incredible ingredient as it is anti-bacterial, anti-viral, and anti-fungal. Tulsi is also known to help with skin disorders and promote healthy hair and skin. 
Organic Gotu Kola: Gotu Kola has several names including Indian or Asiatic Pennywort and is a small herbaceous plant. This plant has been shown to help reduce skin blemishes, wrinkles, and varicose veins. 
Organic Burdock Root: Burdock root is known to help with several skin conditions including wrinkles, eczema, acne, and psoriasis. Additionally, burdock is an anti-inflammatory and antibacterial ingredient. 
Organic Rose Petals: Rose petals have a wonderful combination of vitamins, minerals, and antioxidants that tackle dry skin and other skin conditions. Rose petals also have astringent properties, making them an excellent combatant of acne, redness, and inflammation.
Recipe
Try this minty, fruity, and refreshing recipe using Organic Beaty Me! 
Video
If you're ready to learn more about Organic Beauty Me and see what else we've been working on, check out our YouTube channel!