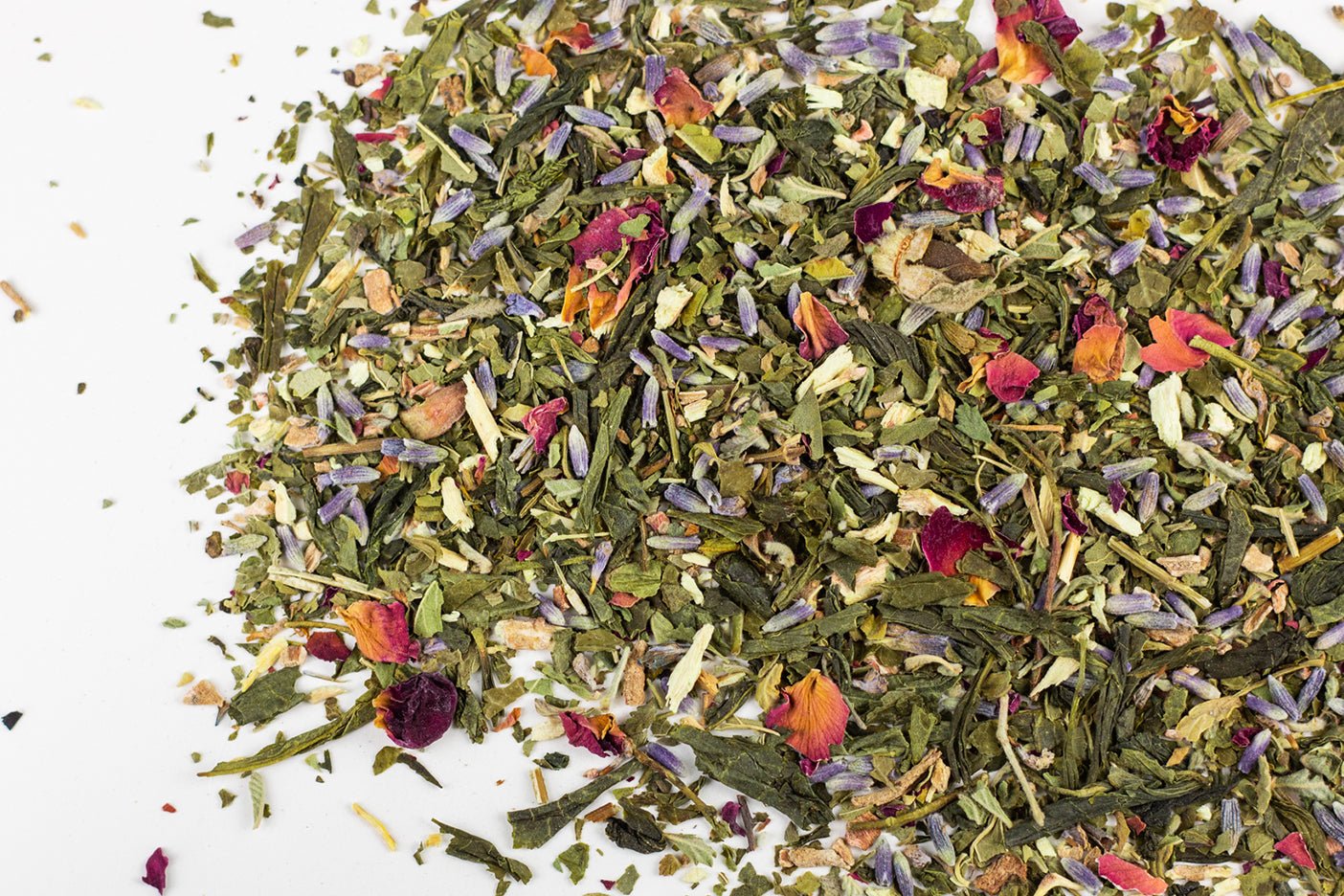 Tea of the Week | Organic Cheerful Tea ☀️ 😊
Carly Pearl-Sacks
Organic Cheerful Tea
Hey tea lovers! 
This week we are looking at Organic Cheerful Tea! This tea is a green tea based blend with mood and energy boosting ingredients. Organic Cheerful Tea is floral and lightly citrusy. 
Ingredient Breakdown
Organic Sencha: Sencha is a green tea and is the base of our Organic Cheerful Tea! Sencha is full of antioxidants and vitamin C! Sencha is also an energy boosting green tea with a caffeine boost that won't give you a coffee crash. The caffeine in green tea is a more sustainable energy and lasts longer than a typical cup of coffee. Additionally, sencha can provide relief from inflammation and even help lower cholesterol! 
Organic Ashwagandha Root: Ashwagandha is an evergreen shrub and is known as a superfood for a good reason! This plant can help relieve inflammation while improving mood and memory. Ashwagandha is also known to help provide stress and tension relief.  
Organic Damiana: Damiana is a small woody shrub with pretty yellow flowers! This plant is a huge mood booster with benefits including relieving headaches, treating depression, improving mental and physical stamina, and it can even been used as an aphrodisiac! 
Organic Lemon Balm: Lemon balm has been known as a calming herb since the Middle Ages. It is used specifically to treat anxiety and stress along with having calming effects on the stomach and promoting healthy sleep patterns.
Organic Lavender: Lavender is an ingredient that is known for calming the mind and body and tea with lavender in it is no exception! The aroma and the buds help to relax and destress the body from head to toe. 
Organic Rose Petals: Rose petals are a beautiful ingredient but also have health benefits stored inside! These petals have a calming aroma along with containing polyphenols which are a type of antioxidant which helps to protect the body from cell damage. 
Recipe
Try out this matcha and Organic Cheerful Tea mixed drink sure to start your day off with plenty of sustainable energy! 
Video
Ready to explore more about Organic Cheerful Tea? Check out our Youtube channel and videos!