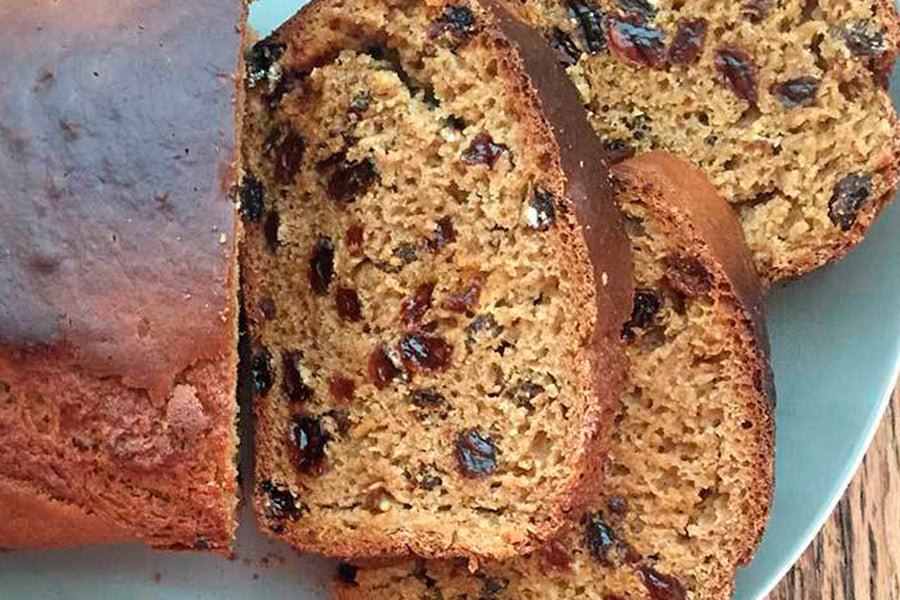 Irish Barmbrack Tea Cake
Moriah Sukraw
A tea cake for the Irish. Or the non-Irish, too. 
Now are the months for comfort food. This warm tea loaf is truly a cozy delight! Warm, sweet, and beautifully scented, you aren't bound to be disappointed. This tea cake is the perfect pairing for (perhaps you guessed it) a cup of tea! A coffee cake to coffee is this Barmbrack tea cake to tea. Without needing yeast, this loaf is so easy to procure with minimal effort, and yet still tastes amazing.
The cinnamon collides with the tea-soaked raisins to create a wonderful blend of perfection. Feel free to share – because we know you won't be able to keep it to yourself!
There is some overnight prep: be prepared to make the tea and raisin mixture the night before or at least 8 hours before!
INGREDIENTS 
– 1⅓ cup raisins
– 1¼ cup cold, strong black tea (I would suggest Organic English Breakfast for its dark and hearty flavor, Organic Ceylon for its citrus notes, or Organic Earl Grey for its floral notes)
– 2 cups all-purpose flour
– ¾ cup brown sugar
– 4 tsp baking powder
– 1 medium egg
– 1 tsp cinnamon
INSTRUCTIONS
THE NIGHT BEFORE
1.) Make a strong cup of black tea (using any of the tea mentioned previously) and let it cool. Pour it over the raisins and let cool overnight. Note: just in case some raisins absorb more tea than others, it is a good idea to make some extra cold black tea to have on hand.
THE DAY OF
2.) Preheat the oven to 355 – 400°F.
3.) Combine all the ingredients in a mixing bowl, including the raisins and tea. Note: if some raisins did absorb more liquid, add the extra prepared tea here.
4.) Line a loaf tin with baking paper and pour the mixture over. Put in the over to bake for one hour or until baked throughout.
5.) Enjoy with butter and/or jam as well as your favorite cup of tea!
Like two peas in a pod!
Recipe developed by Happy Foods Tube.