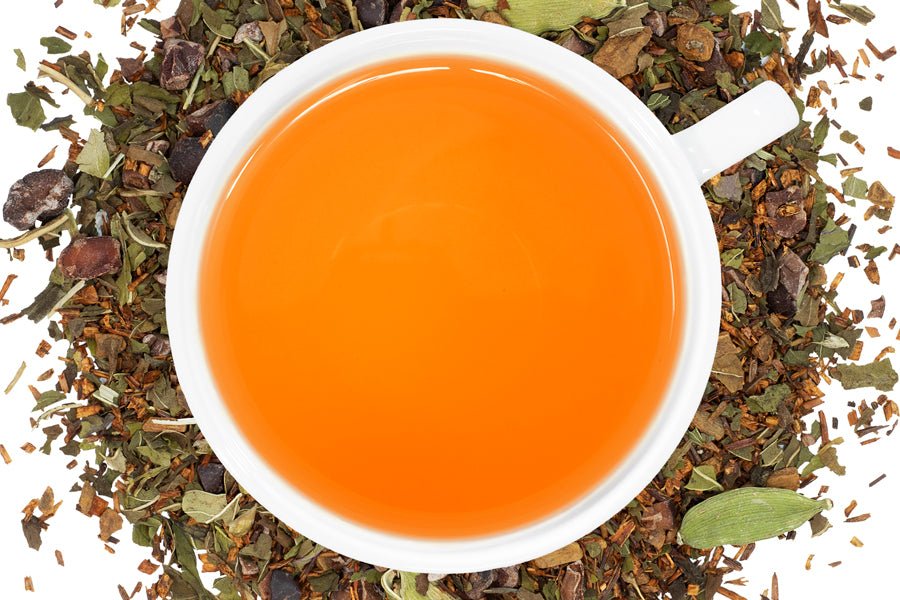 Cozy up with Organic Winter Brew
Ryan Thompson
My love affair with rooibos started over a decade ago. Roobios, or also known as red tea, tastes similar to a crossbreeding of hibiscus and yerba mate. I find the earthy flavor very subdued and not overwhelming. One of the benefits that drew me to trying this tea was the health claim that it was an incredible source of antioxidants. I recently had shifted my diet due to health reasons and needed as much of these amazing benefits as I could consume. Thus began my journey.
I was undergoing an intense treatment for my neurological disease that was similar to chemo for Cancer patients. It stripped my body of the ability to have white blood cells and put me on a path that sought to avoid all types of sickness around me. I had no immunity and had to fight for wellness in my own bubble. It was a challenging and difficult time in my life but one that taught me a lot of life lessons. Along the way I leaned into all the different types of foods and beverages I could consume that would give my body the best fighting chance it could have against the onslaught.
Over the years I have had my body grow in its ability to fight infections becoming much stronger. While I still recommend have a dedicated health care professional team I will always speak highly of tea and its benefits to my life. Consuming rooibos for strictly health reasons or socially for its wonder flavor, it is sure to to be a fan favorite.
At Full Leaf Tea Company we are introducing a new blend we call Organic Winter Brew, here for a limited run. Just in time to keep you cozy in the cold weather that seems to be gracing most of our houses at this time of the year it is sure to become one of your new favorites! We've packed it full of rooibos and complemented it with all organic cocoa nibs, cinnamon, peppermint, and cardamom.
All of these ingredients add a depth to an already powerful tea and takes it to another level. The familiar soft spices of chai meet the cooling impact of peppermint and sophistication of cocoa nibs. A definite match made in heaven!