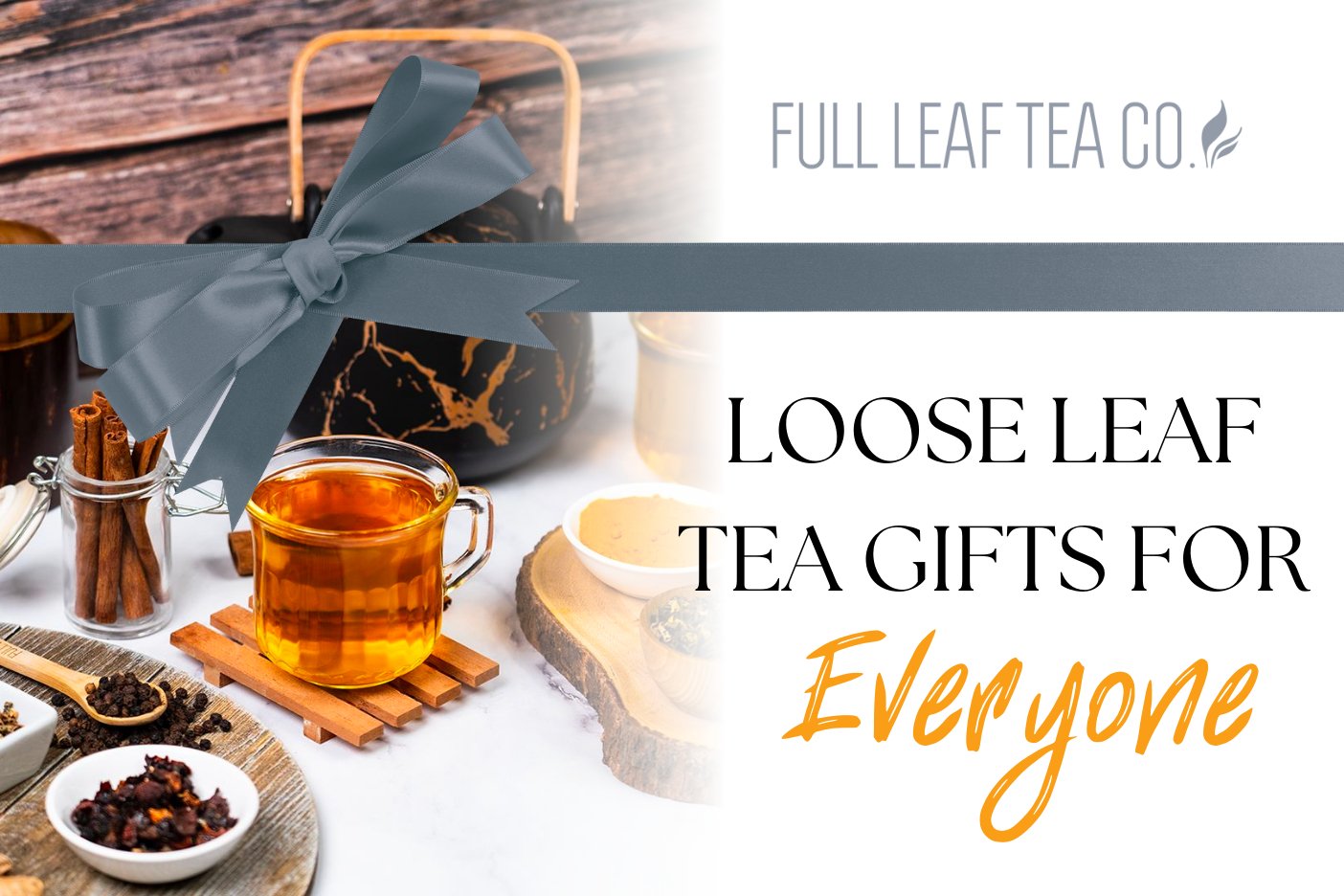 Loose Leaf Tea Gifts for Everyone
Kaci Barnes
Picking Loose Leaf Tea Gifts for Everyone
Choosing the perfect gift for a special person can be both exciting and challenging, regardless of the occasion - whether it's a birthday, anniversary, holiday, or a simple act of appreciation. A well-thought-out and meaningful gift can make a significant impact. If the individual in question is a tea enthusiast or simply enjoys the comforting ritual of tea, you're in luck!
Within this extensive gift guide, we'll explore a wide array of delightful options suitable for everyone. From premium loose-leaf teas to elegant teapots and infusers, we've meticulously curated a selection of gifts that allow you to convey your love and appreciation in a truly distinct manner. Join us as we delve into the enchanting world of loose-leaf tea and discover the perfect gift to brighten their day.
Popular Classics!

Welcome to the Classics Collection, a selection of our most beloved teas that have become iconic in our journey. These timeless brews have not only inspired us to create unique blends but have also played a pivotal role in shaping our business.
Within this collection, you'll find a variety of cherished teas, including the fragrant Jasmine, robust Black Tea, soothing Chamomile, and several other classics. These teas have not only stood the test of time but have also fueled our passion for tea exploration and innovation, allowing us to share their timeless appeal with tea enthusiasts like you. Explore the classics that have left an indelible mark on our tea journey and continue to inspire us daily.
Organic Masala Chai- A delicious and invigorating loose-leaf tea blend made from high-quality, organic black tea leaves and a unique blend of aromatic spices, including cinnamon chips, cardamom, ginger root, and cloves. This tea is perfect for those who love a warm, spicy, and sweet beverage!
Organic English Breakfast- This classic blend steeps a red-gold cup with a smooth and hearty black tea flavor profile. This tea is often enjoyed in the morning and is known for its bold and robust flavor. It is a delicious blend of black teas from India and China. From tea beginners to connoisseurs, this tea is sure to delight.
Organic Earl Grey-  A rich and smooth loose-leaf black tea that is infused with the bright, citrusy flavor of oil of bergamot. This tea is made from high-quality, organic tea leaves that are carefully harvested and expertly processed to ensure the best possible flavor and aroma. This tea is a delightful and invigorating beverage any time of day.
Organic Darjeeling First Flush- Organic Darjeeling First Flush is a premium loose leaf tea that is highly sought after by tea connoisseurs around the world. This tea is made from the first harvest of the season, known as the "first flush," which occurs in early spring when the tea bushes awaken from their winter dormancy.  
Organic Jasmine- Organic Jasmine is a delicate and aromatic loose-leaf tea that is made by combining organic green tea leaves with the essence of organic jasmine flowers in a practice that has been done for over 1000 years. This tea has a light and floral flavor with a subtle sweetness and a refreshing finish. It is perfect for those who want to enjoy a natural and flavorful way to relax and unwind after a busy day.
Organic Chamomile-  A soothing and aromatic loose-leaf herbal tea that is made from the flowers of the chamomile plant. This tea is naturally caffeine-free and is known for its calming and relaxing properties, making it a popular choice for those looking to unwind and de-stress. 
Popular Wellness!
Our organic wellness blends are meticulously crafted using the finest teas, herbs, and spices sourced from around the world. Each blend within this collection is thoughtfully formulated with specific health objectives in focus. However, they all share a common mission: to aid, heal, and bolster the body's holistic well-being.
In our pursuit of excellence, we have carefully selected ingredients known for their exceptional quality and therapeutic properties. Whether you seek a tea that enhances digestion, boosts immunity, calms the mind, or provides antioxidant support, our organic wellness blends are designed to harmonize with your body's needs. With each sip, you're not just enjoying a delightful tea but also nurturing your health and vitality. Explore our collection and embark on a journey towards enhanced well-being with every cup.
Organic Stress Relief Tea- This exceptional blend harnesses the power of potent ingredients like Holy Basil and Lemon Balm, known for their capacity to alleviate both mental and physical stress.
Organic Sleeping Tranquilitea-Experience a peaceful and uninterrupted night's sleep with Sleeping TranquiliTea! This carefully crafted blend is specially designed to soothe both your body and mind, ensuring a truly restful slumber. It combines USDA organic herbs in an ideal ratio for a tranquil bedtime experience.
Organic Anti-Inflammatory Tea- Counteract chronic inflammation with our Organic Anti-Inflammatory Tea. Crafted with a harmonious blend of green tea, ginger, and cinnamon, this tea is rich in antioxidants and polyphenols, including the potent anti-inflammatory warrior, EGCG. Experience the soothing benefits of this tea and promote your overall well-being.
Organic Skinny Natural Tea-Organic Skinny Natural Tea was formulated by Full Leaf's artisan blenders to create a tea that met a simple yet complicated goal: create a weight loss tea of organic herbs with three ingredients or less that tasted great.
Organic Vita Me Tea-Energize your day with Full Leaf's Organic Vita Me Tea! Packed with antioxidant-rich components, this caffeine-free blend provides a vitamin boost to keep you invigorated and well throughout your day.
Organic Adaptogen Tea- Formulated to support comprehensive mental and physical well-being, this tea is carefully crafted to alleviate stress, enhance cognitive function, and bolster overall health, with its intention being to adjust to your body's unique requirements.
Organic Migraine Relief Tea- Combat migraines effectively with this delightful tea! The calming properties of peppermint and cinnamon synergize with the therapeutic benefits of feverfew and catnip to proactively reduce the occurrence of migraines. Enjoy a natural solution for migraine management.
Holiday Samplers!
Discover our selection of holiday samplers, featuring two distinct options. One is an herbal sampler, perfect for those seeking caffeine-free delights, while the other offers a caffeinated array of teas, ensuring you can enjoy the best of both tea worlds during the festive season!
Herbal Holiday Sampler-A delightful selection of four premium loose-leaf teas crafted to infuse your holiday season with warmth and festive flavors. Encased in an elegant silver box, this set features four tins of loose-leaf tea, complemented by convenient drawstring tea bags, making it a perfect gift for tea aficionados during this special time of year!
Indulge in the following flavors of Organic Herbal Orange Cinnamon Spice, Organic Herbal Chai, Organic Herbal Mint Cocoa, Organic Winter Brew
Each tin provides approximately 5-7 servings, and for added convenience, we've included 30 drawstring tea bags to make steeping these delightful teas a breeze. Make this holiday season even more special with our Herbal Holiday Sampler!
Caffeinated Holiday Sampler - a delightful assortment of four premium loose-leaf teas carefully selected to infuse your holiday season with warmth, comfort, and festive flavors. Housed in a stylish gold box, this set features four tins of loose-leaf tea along with convenient drawstring tea bags, making it the perfect holiday gift for tea enthusiasts! Indulge in the following flavors: Organic Orange Cinnamon Spice, Organic Masala Chai, Organic Mint Bliss, Organic Holiday Cheer
Each tin offers approximately 5-7 servings, and to make brewing a breeze, we've included 30 drawstring tea bags. Celebrate the holidays with our Caffeinated Holiday Sampler and elevate your tea experience!
Our Other Samplers!
Undecided on which tea to explore? Give our samplers a try! Each box is thoughtfully packed with four premium loose-leaf teas or matcha varieties. For your convenience, all loose leaf tea samplers come with 30 disposable drawstring tea bags, making it easy to enjoy your tea on the go. Cheers to the delightful journey ahead!
Fruit Blend Sampler- Sweet, sour, and tangy are all brought together in this sampler. Rich in fruits, berries, and herbs, these four teas will make your taste buds jump!
Includes:Tropical Escape, Sweet Cherry Berry, Very Berry Bunch,  Fruitea Tang 
Chai Sampler- Sweet and spicy are brought together in our unique and flavorful chai blends. This sampler of cozy blends will warm you from the inside out! These tins are packed full with a variety of flavors! Included in this sample:,Organic Masala Chai, Organic White Chai, Organic Herbal Chai, Organic Chai Pu-Erh
Ultimate Tea Sampler- Full Leaf's Ultimate Tea Sampler is a combination of our favorite classic loose leaf teas and wellness blends! We have selected our bestsellers for this bold and flavorful sampler. With a wide variety of black, green, and rooibos teas, this sampler is the perfect introduction to what Full Leaf has to offer! A perfect gift for those new to tea and those in love with tea already, this sampler of premium USDA Organic teas will delight with its bold flavors, enticing aromas, and beautiful, quality ingredients. From nature to your cup, experience the joy of loose leaf tea with our Ultimate Tea Sampler!
Includes: Organic Beauty Me Tea, Organic Live Fit Tea, Organic Masala Chai, Organic Sencha Green, Organic English Breakfast, Organic Detox Tea, Organic Orange Cinnamon Spice, Organic Sleeping TranquiliTea!
Matcha Sampler- With our expanded line of Matcha and Sweet Matcha blends, deciding on which ones to buy can be difficult. Worry no more! We have put together a blend of three matcha options and our Sweet Matcha Original so you can taste them all!
Each pack holds 10 servings for matcha and packaged together in our signature craft paper box. It's a great value to sample at almost 20% OFF and makes a great gift!Included in this sample: Ceremonial Matcha, Premium Matcha, Culinary Matcha, Organic Premium Matcha
Get Well Soon Sampler- Introducing our Get Well Soon Sampler, a carefully curated selection of four tins of loose leaf tea designed to bolster your immune system and provide soothing relief from cold and flu symptoms. This sampler is the perfect companion to help you stay healthy and comfortable throughout the year or the perfect gift for someone feeling under the weather! Includes: Organic Lung Health, Organic Cold Remedy, Organic Throat Clarity, Organic Immunity Blend. 
Herbal Wellness Sampler-Indulge in the Herbal Wellness Sampler, a delightful collection of four tins of caffeine free loose leaf tea, carefully selected to promote overall wellness. Each tin showcases a distinctive blend of herbs and spices known for their therapeutic properties, such as chamomile, lavender, peppermint, and rooibos. Immerse yourself in the soothing aromas and flavors of these herbal teas, and embrace a holistic approach to wellness with every sip. Includes: Organic Herbal Comfort, Organic Relieve Stress, Organic Sleeping Tranquilitea, Organic Detox Tea
Wellness Tea Subscription Box
Welcome to the world of ultimate wellness with our Wellness Tea Subscription Box. This thoughtfully crafted box brings you a handpicked selection of 5 rotating wellness teas, each designed to elevate your sense of well-being and infuse tranquility into your daily ritual. Embrace the excitement of discovering new flavors and expanding your wellness repertoire with a delightful box of surprises delivered to your doorstep every month. Plus, enjoy significant savings with a 50% discount on each subscription order.
In this carefully curated box, you'll find a harmonious blend of both caffeinated and herbal teas, ensuring that your wellness journey encompasses a diverse spectrum of flavors and benefits. Embrace the essence of well-being with our Wellness Tea Subscription Box and savor the delights it brings to your life, one sip at a time.
To Steep...!
Discover the convenience and versatility of loose leaf tea bags and infusers! These accessories make brewing loose leaf tea a breeze, whether you're at home or on the go. Loose leaf tea bags offer the ease of tea bags with the quality of loose leaf tea, while infusers let you steep tea leaves to perfection. Explore a world of flavor and convenience with these tea essentials!
Natural Paper Drawstring Tea Bags- Streamline your loose leaf tea preparation using our eco-friendly drawstring paper teabags. Crafted from unbleached paper, these teabags are entirely biodegradable and compostable, providing an environmentally conscious alternative to conventional plastic tea bags. Each teabag features a handy drawstring for effortless and efficient brewing of loose leaf tea.
Full Leaf Signature Leaf Infuser -Mint- Achieve the ideal cup of tea with our exclusive mint leaf tea infuser made of silicone! It features a simple open-and-close mechanism with a silicone groove that securely holds the stainless steel base. Experience the convenience of effortlessly removing the infuser from your cup and placing it on the silicone base for subsequent steepings. This infuser is particularly effective with all loose leaf teas, including those with smaller herbal ingredients, thanks to its fine mesh basket.
Signature Tea Press- Black- Elevate your loose leaf tea experience with our versatile tea press, capable of steeping up to 33 ounces of tea. Whether you're brewing multiple cups of tea or preparing a concentrated tea infusion, this tea press is designed to meet your needs. Crafted with high-quality materials, including stainless steel components, thick borosilicate glass, and durable BPA-free plastic, it ensures the perfect brew every time. Simple to use and easy to clean, it's a must-have for any tea enthusiast.
Simple Steeper Tea Infuser- Experience effortless tea brewing with the Simple Steeper! This compact device fits snugly on your cup, utilizing a fine filter to capture even the tiniest tea leaves, ensuring a hassle-free and convenient tea-making process.
Using the Simple Steeper is a breeze. Just open the top, add 2-3 teaspoons of tea leaves to the chamber, pour in up to 12 oz of nearly boiling water, and steep for the recommended time. After steeping, place the bottom of the Simple Steeper over your favorite mug, and it will dispense tea until the cup is full. Lift the Simple Steeper, and it automatically stops dispensing. Now, sit back and savor your tea!
Or Not To Steep...!
If you've exhausted your gift ideas for that special person in your life, why not explore the array of other enticing tea accessories we have in store? We offer an extensive selection of tea-related items beyond just tea leaves, ensuring you'll find the perfect complement to their tea-drinking experience. From elegant teapots and infusers to innovative gadgets designed to enhance their tea rituals, our collection has something to delight every tea enthusiast. Discover these thoughtful and practical additions that can make their tea moments even more enjoyable and unforgettable. Whether it's for a birthday, anniversary, holiday, or a simple gesture of appreciation, these tea accessories can be the perfect accompaniment to your heartfelt sentiments.
We hope you've discovered the perfect teas and accessories that resonate with the people in your life, whether it's for yourself or someone special. Cheers to the joy of sipping, savoring, and sharing the love of tea!
If you didn't find what you're looking for, we would love to help. Contact us here!
Happy gifting!