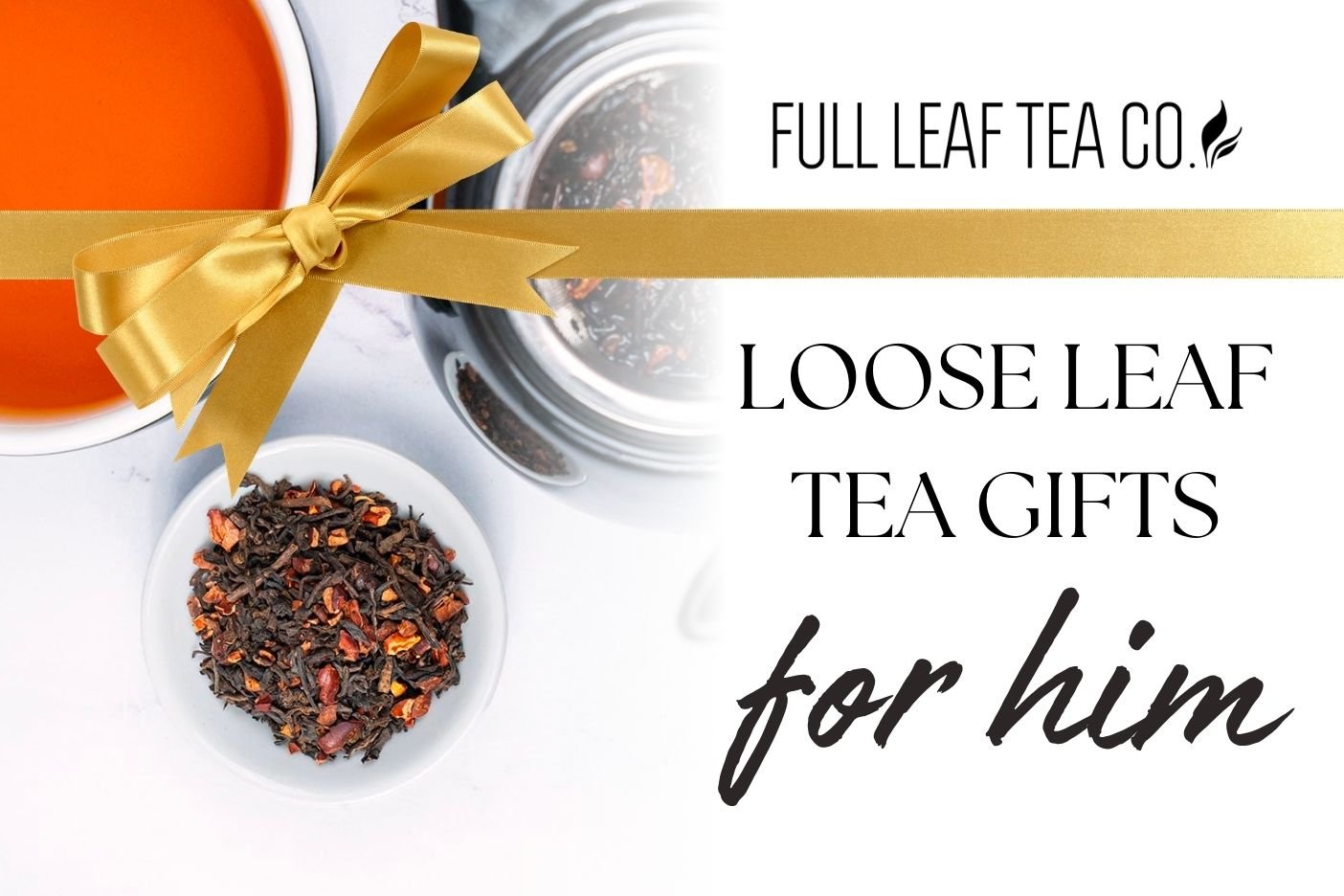 Loose Leaf Tea Gifts for Him
Carly Pearl-Sacks
Picking Loose Leaf Tea Gifts for Him
Searching for the perfect gift for that special man in your life can be both thrilling and challenging. Whether it's his birthday, an anniversary, a holiday, or simply a way to show your appreciation, choosing a thoughtful and meaningful present can make all the difference. If he happens to be a tea enthusiast or someone who savors the simple pleasures of a comforting cup of tea, you're in luck! In this comprehensive gift guide, we'll explore a realm of delightful options centered around loose leaf tea and accessories that are sure to bring a smile to his face. From exceptional teas to sleek teapots and infusers, we've meticulously selected a range of gifts that will help you convey your love and appreciation in a truly unique way. So, let's delve into the fascinating world of loose leaf tea and discover the perfect gift to brighten his day.
Healthy You - For Him Sampler
Full Leaf's Healthy You Sampler - For Him is the perfect selection of tea for every man pursuing wellness and good health! With specific teas targeted at fitness, cleansing, recovery, and nutrition, this sampler will help any person achieve their wellness goals!
Teas included in this sampler: 
Teas Featured in this Sampler
Organic Pure Seduction - For Him
Pure Seduction for Him is more than just a tea; it's an enticing blend crafted with the modern man in mind. While finding the perfect gift for him might have seemed challenging, this aromatic blend effortlessly combines flavor, energy, and sensuality to create an experience like no other.
At the heart of Pure Seduction for Him lies the invigorating combination of Epimedium leaf and ashwagandha root. These potent ingredients are not only delicious but are also known for their revitalizing properties. Epimedium leaf, often referred to as "Horny Goat Weed," has a long history of being an aphrodisiac and is believed to enhance energy and vitality. Ashwagandha, on the other hand, is celebrated for its adaptogenic qualities, helping to reduce stress and promote overall well-being. 
Organic Testosterone Blend
Organic Testosterone Blend combines a carefully selected fusion of nature's finest ingredients, each renowned for its unique health benefits. From the vibrant Sencha green tea that awakens the senses to the herbal prowess of saw palmetto, fenugreek, ashwagandha, epimedium, and the spicy embrace of ginger, this blend is designed to empower him with vitality and stamina.
It's a gift that keeps on giving, supporting his overall health and well-being throughout the day.
Full Leaf Vacuum Flask Tea Infuser
The Full Leaf Vacuum Flask Tea Infuser is an accessory that combines style, functionality, and durability to elevate his tea-drinking experience. This isn't just any ordinary tea flask; it's a companion designed to keep his favorite brew hot and flavorful all day long.
Imagine the convenience of brewing tea on the go, whether he's at work, on a hike, or simply enjoying a leisurely day out. The sturdy infuser nestled inside the bottle ensures that he can steep his loose leaf tea effortlessly. Or, if he prefers, he can pour his pre-steeped tea directly inside, and it will maintain its perfect temperature for hours.
Crafted from stainless steel, this vacuum flask is built to withstand the rigors of daily life. It's more than just a teacup; it's a testament to quality and resilience. With the Full Leaf logo and motto etched on its surface, this bottle serves as a constant reminder of the pursuit of "pure joy, a clean life, and inspiring tea."
Don't forget to get him something to steep with!
When it comes to selecting the perfect gift of loose leaf tea for the special man in your life, adding something to steep his new tea with is the ideal companion to complete the gift. 
We hope you've discovered the perfect teas and accessories that resonate with the men in your life, whether it's for yourself or someone special. Cheers to the joy of sipping, savoring, and sharing the love of tea!
If you didn't find what you're looking for, we would love to help. Contact us here!
Happy gifting!