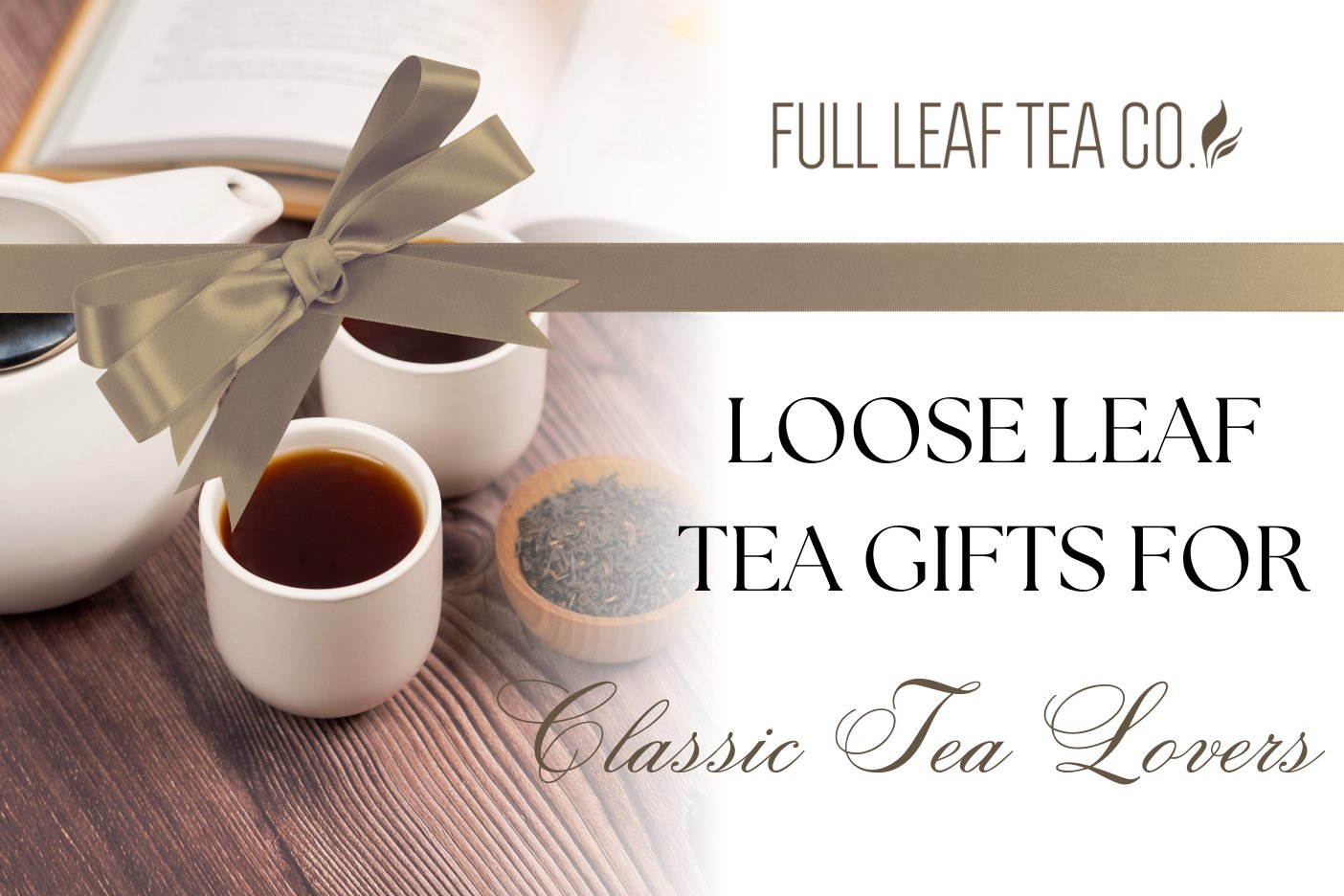 Loose Leaf Tea Gifts for The Classic Tea Lover
Katie Scofield
Picking Loose Leaf Tea Gifts for The Classic Tea Lover

Selecting the ideal gift for a special person in your life can be both exciting and challenging. Whether it's a birthday, anniversary, holiday, or an expression of appreciation, a thoughtful gift can leave a lasting impression. If they're a classic tea enthusiast, someone who finds comfort in the timeless pleasure of tea, you're in luck!
In this guide, we explore a world of delightful options centered around classic tea. Our selection includes premium tea blends and elegant teapots and infusers, perfect for expressing your love and appreciation in a unique way. Join us in discovering the perfect tea-themed gift to brighten their day!
The Classic Black Teas!
Organic English Breakfast - This tea is often enjoyed in the morning and is known for its bold and robust flavor. It is a delicious blend of black teas from India and China.
Organic Masala Chai - Delicious and invigorating loose-leaf tea blend made from high-quality, organic black tea leaves and a unique blend of aromatic spices, including cinnamon chips, cardamom, ginger root, and cloves.
Organic Earl Grey -  A rich and smooth loose-leaf black tea that is infused with the bright, citrusy flavor of oil of bergamot. This tea is made from high-quality, organic tea leaves that are carefully harvested and expertly processed to ensure the best possible flavor and aroma. 
Organic Darjeeling First Flush - A sought-after premium loose-leaf tea. It comes from the first harvest of the season in the Darjeeling region of India, occurring in early spring as the tea bushes awaken from winter dormancy. Hand-picked and traditionally processed, it yields a delicate, nuanced flavor.
Organic Pu-Erh -An exquisite loose-leaf tea known for its rich, earthy flavor and potential health benefits. Made from fermented and aged tea leaves, it boasts a deep, wine-like complexity.
Organic Assam-Named after the Assam region in North-Eastern India. Assam is known for its distinctive black teas and is one of the only regions in the world with native tea plants. Organic Assam tea has golden tips to each leaf and features a brisk and malty flavor.
The Classic Herbal Teas!
Organic Chamomile- A soothing and aromatic loose-leaf herbal tea that is made from the flowers of the chamomile plant. This tea is naturally caffeine-free and is known for its calming and relaxing properties, making it a popular choice for those looking to unwind and de-stress. 
Organic Jasmine- A delicate and aromatic loose-leaf tea that is made by combining organic green tea leaves with the essence of organic jasmine flowers in a practice that has been done for over 1000 years. This tea has a light and floral flavor with a subtle sweetness and a refreshing finish. It is perfect for those who want to enjoy a natural and flavorful way to relax and unwind after a busy day.
Organic Peppermint- A refreshing and rejuvenating loose-leaf tea made with organic peppermint leaves. This tea has an invigorating flavor with a refreshing and cooling sensation, making it a perfect beverage to enjoy anytime. A deliciously natural and flavorful way to promote digestive health and relaxation.
Organic Lavender- A calming and soothing blend that promotes relaxation and helps alleviate stress and anxiety. The delicate floral aroma and sweet taste of lavender make it a perfect choice for winding down after a long day or before bed. This tea is also known for its potential to promote better sleep and relieve headaches, making it a great addition to any wellness routine. 
The Classic Green and White Teas!
Organic Sencha-  A traditional Chinese green tea that is made from steamed tea leaves, resulting in a delicate and vibrant flavor with a refreshing aroma. With its unique flavor profile and potential health benefits, Organic Sencha is a perfect tea to enjoy throughout the day as a natural source of energy and vitality.
Organic Pai-Mu-Tan - A delicate and fragrant white tea that is handpicked from the early spring harvest. This premium loose-leaf tea has a subtle sweetness and a light, refreshing taste that is perfect for relaxing and unwinding. The tea may also offer potential health benefits due to its high levels of antioxidants and anti-inflammatory properties.
The Classics with a Twist!
Organic Royal Blend- Sit back in comfort and enjoy this truly royal blend of black teas. Rich in flavor with hints of chocolate, this tea commands your tastebuds – deserving its spot in royalty. 
Organic Kingston Earl Grey- Bergamot and grapefruit essential oils are the stars of this exceptional blend. Organic Kingston has the traditional earl grey taste you love, with the addition of bold citrus flavor.
Organic Herbal Earl- Fall in love with earl grey all over again! Herbal Earl takes the smooth taste of bergamot and adds a new twist. Naturally, caffeine-free rooibos provides a perfect base for an earl grey you can drink at any time of day.
Organic Jasmine Pearls-  A luxurious loose leaf tea that combine the delicate flavor of jasmine flowers with the smoothness of high-quality green tea. This tea is made with organic tea leaves that are hand-rolled into small pearls and infused with the natural fragrance of jasmine flowers.
Organic Herbal Chai- Finally, a tea that has delicious chai flavors and no caffeine that is made using Rooibos, a naturally caffeine-free tea from South Africa. It is the perfect base for the rich and spicy ingredients of Rooibos ginger, cinnamon, and cardamom.
Organic Chai Pu-erh- A flavorful and energizing tea blend made with organic black pu-erh tea and a warming blend of organic chai spices including ginger root, cinnamon, and cardamom.
Check Out Accessories for the Classic Tea Lover!
We hope you've discovered the perfect teas and accessories that resonate with the Classic Tea Lovers in your life, whether it's for yourself or someone special. Cheers to the joy of sipping, savoring, and sharing the love of tea!
If you didn't find what you're looking for, we would love to help. Contact us here!
Happy gifting!