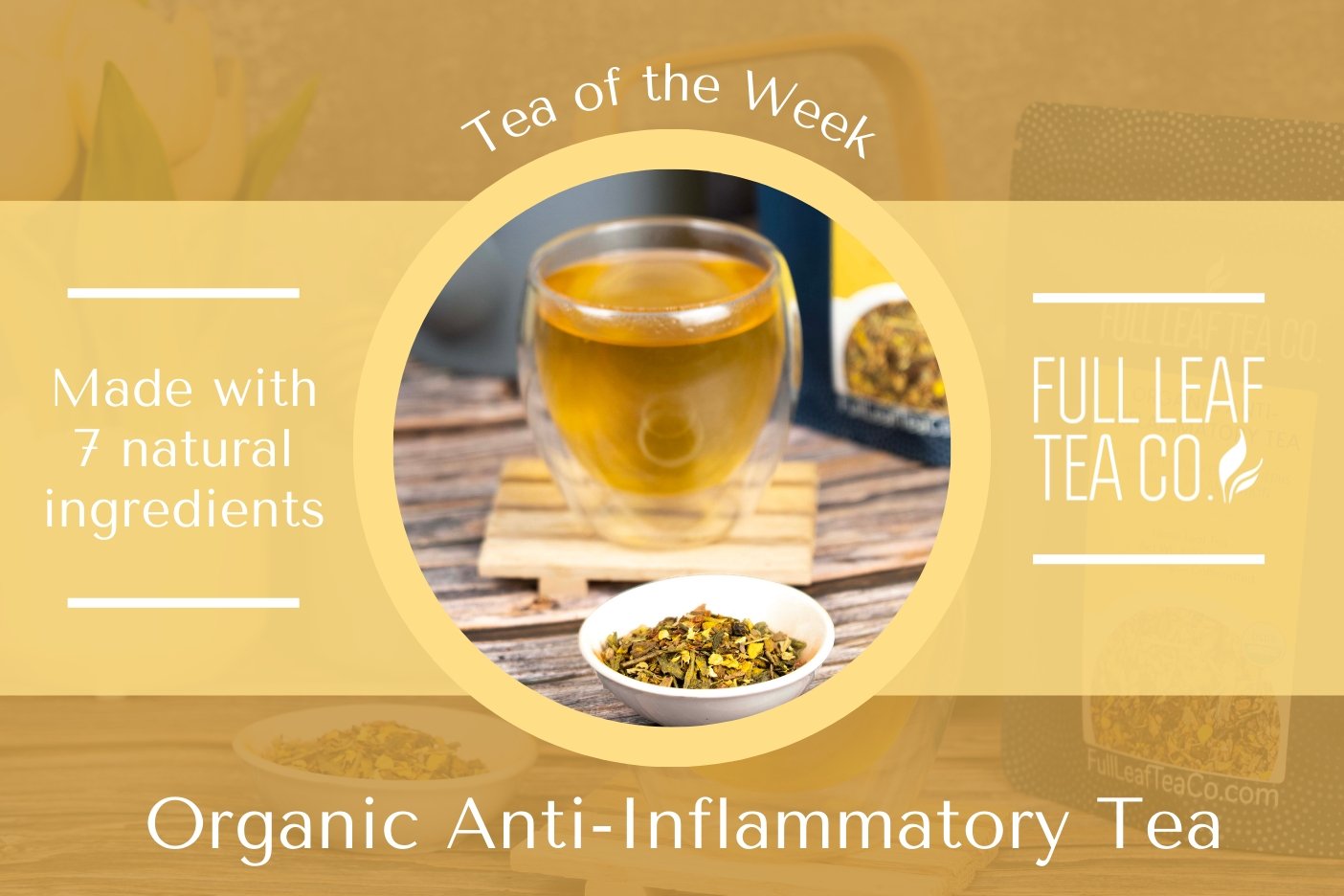 Organic Anti-Inflammatory Tea 💛 | Tea of the Week
Carly Pearl-Sacks
Hey tea lovers! Welcome back to Tea of the Week. This week, we are looking at a tea that is great for those who struggle with inflammation. Organic Anti-Inflammatory Tea has been a huge help for reducing inflammation and is blended with 7 natural ingredients! 
Ingredients
Organic Sencha: Sencha is a popular green tea that is packed with antioxidants. Green tea has been studied to show benefits against many ailments, inflammation included. Most of the results from the human studies indicated beneficial effects of green tea catechins against inflammatory diseases such as arthritis. 
Organic Ginger Root: Ginger tea has been used for centuries as a natural remedy for many ailments including inflammation. Ginger has been more recently study to show that it has powerful anti-inflammatory properties. 
Organic Cinnamon Chips: Cinnamon is a delicious and beneficial ingredient filled with antioxidants. One of the antioxidant compounds in cinnamon, cinnamaldehyde, is thought to be the source of cinnamon's anti-inflammatory properties and rich aroma!
Organic Rosehips: Rosehips have been studied to show that they have a great effect on reducing pain related to inflammation in patients with ailments including rheumatoid arthritis and osteoarthritis. One study showed that patients stated up to 65% pain relief after taking rosehips. 
Organic Holy Basil: Holy basil contains chemical compounds that have shown great results in decreasing pain and swelling caused by inflammatory conditions. Holy basil is also an adaptogen which can help improve the body's response to physical trauma, a common precursor to inflammation. 
Organic Turmeric: Turmeric has been used for over 4,000 years for dozens of its benefits. In terms of its anti-inflammatory benefits, turmeric has been used topically and internally for helping to reduce inflammation. Some studies have shown that turmeric can be more helpful than ibuprofen when it comes to reducing inflammation and pain. 
Organic Black Pepper: This common table spice has multiple uses in this tea blend. Black pepper has antibacterial, antioxidant, and anti-inflammatory benefits. This spice contains a compound called piperine which has strong anti-inflammatory properties and also helps the body to fully absorb the compound in turmeric called curcumin. 
Recipe
Try out this delicious spiced cider with anti-inflammatory benefits!
Video
Want to learn more? Check out our video all about Organic Anti-Inflammatory Tea.