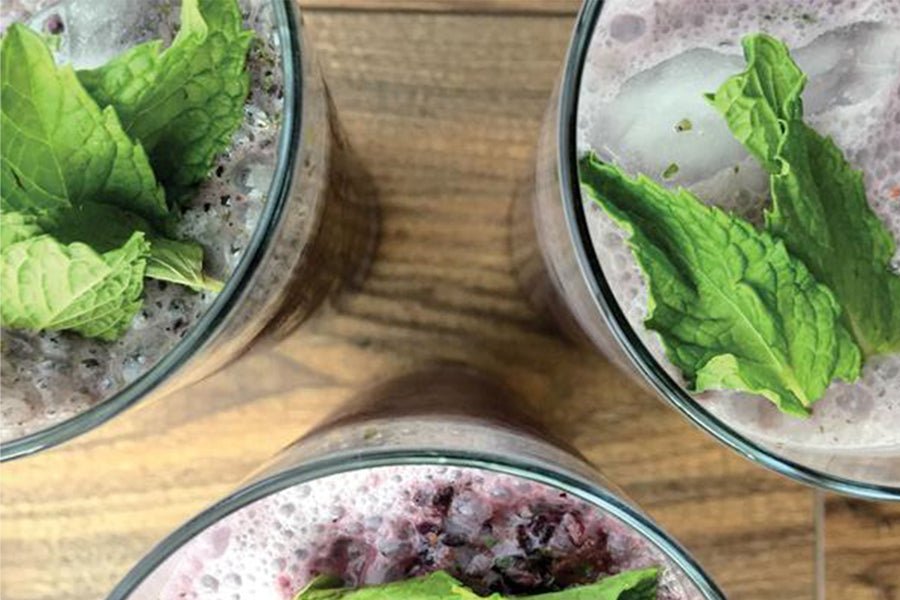 Blended Blueberry Mint Matcha!
Moriah Sukraw
A slushie for adults.
Chill out during the hottest day with a new favorite matcha concoction: blended blueberry mint matcha! I mean, I change my mind every other week with new favorites, but this is for real. Healthy, fruity, and caffeinated just screams the best summer ever! You may be pleasantly surprised at how complimentary blueberries and mint are when coupled together. I know that I sure was!
I came across this recipe by Brewing Happiness while looking for something to quench that unquenchable summer thirst. Not the water kind of thirst, but more like the I-need-something-fruity-and-wonderful-in-my-life thirst. And blueberries hit the spot! Blueberries, in general, are just the bee's knees. They are so beneficial for you, and they have just a small hint of sweetness that satisfies any sweet tooth but doesn't overpower other flavors present in whatever it is you may use them in. Blueberries contain Vitamin K, Vitamin C, Manganese, and Fiber; they combat aging with their antioxidants and boost brain activity and function with the gallic acid that they contain, while also slowing cognitive decline. They fight cancer, support digestion, and benefit your skin. Not to mention that they also aid in weight loss! This tiny fruit packs a powerfully healthy punch, so feel free to indulge.
INGREDIENTS
- 1 cup non-dairy milk, unsweetened
- 1/4 tsp Organic Premium Matcha
- 1/4 cup frozen blueberries
- 1 tbsp maple syrup
- 3 fresh mint leaves
INSTRUCTIONS
Add all the ingredients to a blender, and blitz until well blended and frothy. Pour over a cup of ice, and enjoy!
Sip, sip, and away!
The convenience of this two-minute drink makes it a go-to morning refreshment. I may have had one every day this week, but let's just keep that a secret between you and me, alright? You may feel the need to bring one with everywhere as I have - sip this blended brain booster to your heart's desire!
Recipe developed by Brewing Happiness.