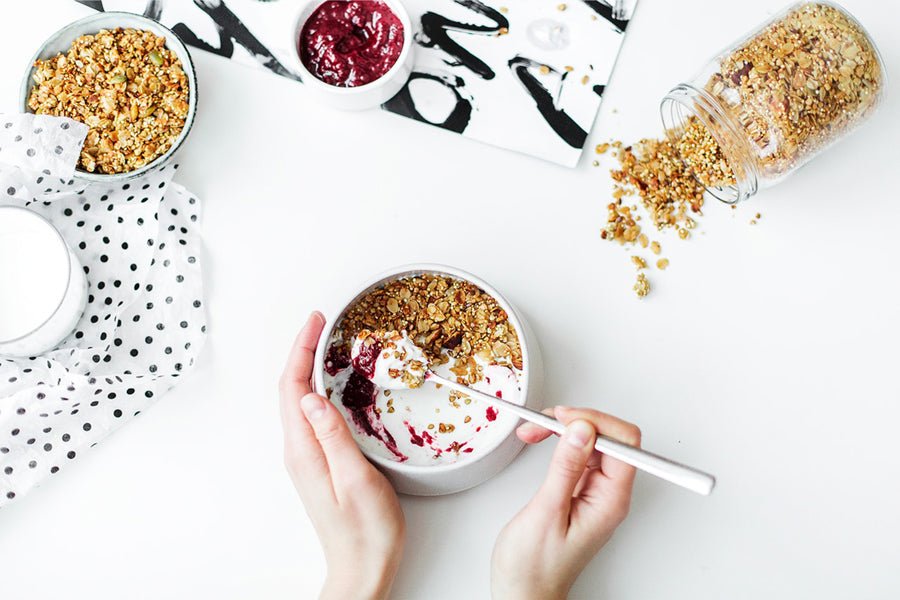 Matcha Overnight Oats + Green Smoothie
Moriah Sukraw
A Brekkie Fit for the Irish.
Although, I think I may just saying that because I'm insinuating the green of this breakfast... But, not the point. St. Patrick's Day may be over, but we are still looking for the gold at the end of the rainbow! Breakfast has always been one of my favorite meals, and growing up I never used to miss one. As I've gotten older, though, it's become easier to make excuses to miss it: "I'm too tired," or "I'm late!" or "I just don't want to..." But breakfast is so important! Especially in setting your metabolism right in the morning so that the rest of your day is prepped for success. 
But even when my schedule is running just right, another problem I tend to face is getting all the proper nutrients in the morning. A bountiful aid in making sure your morning is set right is not only eating the right stuff, but getting a morning matcha fix to sustain energy. 
That is why we are sharing two recipes this go around - it makes the endeavor of making breakfast easy! By making the oats at night, not only do you shave off some time in the morning, but the oats can be taken with you on-the-go! 
The bliss about adding matcha to things is that you are guaranteed a boost in energy, merely by adding it to your daily lifestyle in subtle ways! It's brilliant, if I do say so myself. 
Matcha Overnight Oats
Prep time: 5 minutes || Cook time: 6 hours || Total time: 6 hours and 5 minutes
INGREDIENTS
-3 tbsp steel cut oats
-1 tbsp chia seeds
-1 tsp matcha powder
-1 scoop vanilla protein powder (I use Vega Plant Based Vanilla protein powder)
-3 tbsp greek yogurt (I used 2% plain greek yogurt, but nondairy can be used as well)
-1/4 cup unsweetened nondairy milk (I used unsweetened vanilla almond milk)
OPTIONAL TOPPINGS
-unsweetened coconut flakes
-fresh fruit
-meusli or granola
-nut butter
INSTRUCTIONS
1. In an 8oz jar (or bigger, if you so choose), combine all of your ingredients from steel cut oats to milk, and stir well until thoroughly mixed. Seal jar with lid and allow to thicken overnight, or at least 6 hours, until liquid is absorbed.
2. Add desired toppings and enjoy!
Green 'n Bright Smoothie
Prep time: 5 minutes || Total time: 5 minutes
Since I am just dying for the bright colors of Spring, I used a lot of bright flavors in my smoothie, but just use what you have available to you!
INGREDIENTS
LEAFY GREENS (two cups of any of the following):
-Spinach
-Kale
-Romaine
-Bok Choy
-Other of your favorite greens
RIPE FRUIT (three cups of any of the following):
-Banana
-Mango
-Berries
-Orange
-Peach
-Pear
-Apple
-Grapes
-Pineapple
*Note: If you would like your smoothie a little colder, I use frozen fruits for just a few. For the smoothie I made, I used frozen pineapple bits but you can use frozen berries, grapes, etc.!
LIQUID BASE (two cups of any of the following):
-Water
-Coconut water
-Almond or skim milk
Feel free to experiment and make your smoothie fun! And great news, it can even be made vegan!
INSTRUCTIONS
1. Toss the leafy greens into a blender and blend with liquid base.
2. Add fruits and blend again. If you'd like your smoothie colder, you can add some ice cubes as well.
*Because I used blueberries, my smoothie isn't exactly green, but you best believe those greens are in there!
Easy! Truly, that's it. Add a bit of brightness to your morning with these recipes! And be sure to welcome spring with open arms!!
Overnight Oats with Protein recipe developed by Fit Mitten Kitchen.