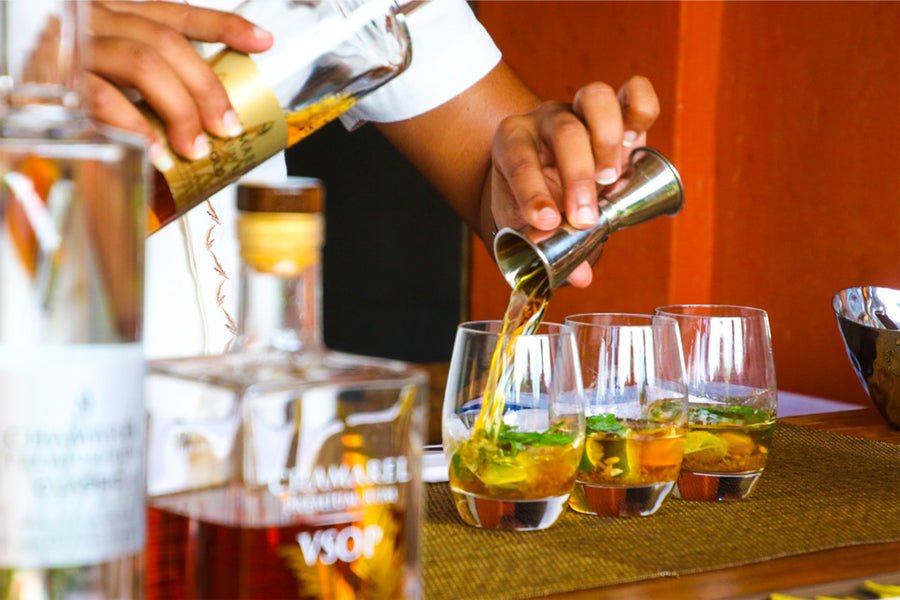 Minty Matcha Julep
Moriah Sukraw
Whiskey on up. 
One of the most refreshing things of summer is the smell and taste of spearmint; even hearing and reading the word makes my mouth tingle in just the slightest way. The cool, minty sensation just warms me up to think about it! It's nearly impossible to go wrong with mint in the hot summer months.
And, sometimes, you really just can't go wrong with whiskey either. Like in this drink - it is magnificently mindblowing. The spearmint adds the faintest hint of freshness, the lemon juice a bit of zest, while the bourbon whiskey gives the kick you need in a tea cocktail. And the matcha? The sweetest little bystander amidst the wild rodeo. The adult tea party has begun! 
This Minty Matcha Julep is bound to be a crowd-pleaser; I know from experience after making such a treat! Saddle on up, and get ready for the punchiest, mintiest tea cocktail you've experienced yet!
Makes 2 drinks:
INGREDIENTS
- 2 teaspoons matcha of choice
- 3/4 cup cool water
- 1/2 cup lightly packed fresh spearmint leaves, plus some sprigs for a garnish
- 2 tablespoons organic blonde cane sugar
- 1-2 tablespoons fresh lemon juice
- 1/2 cup bourbon whiskey
- Ice
INSTRUCTIONS
1.) Place the matcha in a bowl, and gradually work in a tablespoon of the water, stirring constantly until the matcha is as a smooth paste. Gradually stir in the rest of the water.
2.) Place the mint leaves and sugar in a jar or measuring pitcher, and muddle with a muddler or back of a wooden spoon until sugar is dissolved and the leaves are bruised.
3.) Stir in 1 tablespoon of the lemon juice, and all of the bourbon + the matcha mixture.
4.) Strain the mixture through a fine mesh sieve, pressing on the mint. Taste, adding more lemon if needed.
5.) Pour into two ice filled tumblers and garnish with mint sprigs.
As minty and punchy as promised!
Don't wait to experience the matcha-mint-whiskey madness combo. You're in for a treat! Drinking responsibly is an important aspect of drinking these beverages. Don't forget to do so!
Recipe developed by Bojon Gourmet blog.