This classic Japanese green tea started as a way to stretch green tea supplies, but is now a staple in Japanese teas. Blended with roasted brown rice, this tea has a deliciously nutty and toasty flavor with a light and refreshing taste all while brewing to a lovely golden color and a subtle aroma of roasted rice. It's a great choice for those seeking a flavorful alternative to traditional green tea.
Caffeine Content: Medium
Genmaicha has a warm and nutty green tea flavor.

Organic Green Tea

Organic Roasted Brown Rice
Add 1-2 teaspoons of tea to 8 oz of near-boiling temperature water
Let the tea steep for 2-4 minutes
For best results, use filtered water (water can really affect the taste of the tea if it is not filtered)
Organic Genmaicha
Warm nutty flavors combine with the soothing flavor of green tea to create a delicious classic. Genmaicha is a popular classic green tea that's easy to drink and can even soothe an upset stomach.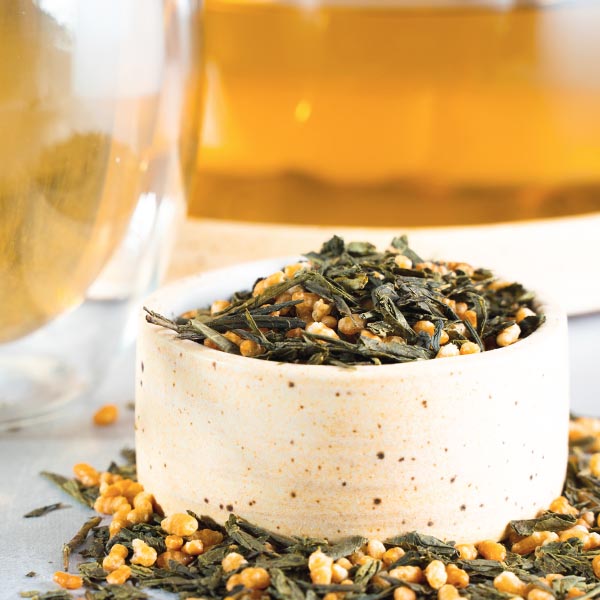 Ratings & Reviews for Organic Genmaicha
A mild comfort tasting TEA(**)
Enjoy it through the day
Great tea!
Love this variety of green tea. Nice aroma and taste.
Just like the Japanese serve
My wife and I used to buy this from a sushi restaurant.
This is a "toasty" green tea...love it!
Awesome tea!
Honestly so far every tea that I have bought from Full Leaf Tea Company has been amazing:
Matcha, different varieties, Chamomile, Earl gray…
This Organic Genmaicha, is the best I have tasted. Love its satisfyingly nutty taste and balanced sweetness. Definitely delicious. Thank you.
Organic Genmaicha U Rock
I have had a few tea's from you guys. However this one is on another level. The taste between the roasted brown rice, the green tea is absolutely heavenly. The two compliment each other. The flavor profile is mind blowing. It's light and refreshing. Nice boost of energy. Such a relaxing , well balanced flavor. this tea is insane. This particular tea IMHO might actually be an underrated secret gem. Well done team FULL LEAF TEA CO. EXQUISITE!
Product title
$19.99 | $24.99
Product title
$19.99 | $24.99
Product title
$19.99 | $24.99
Product title
$19.99 | $24.99