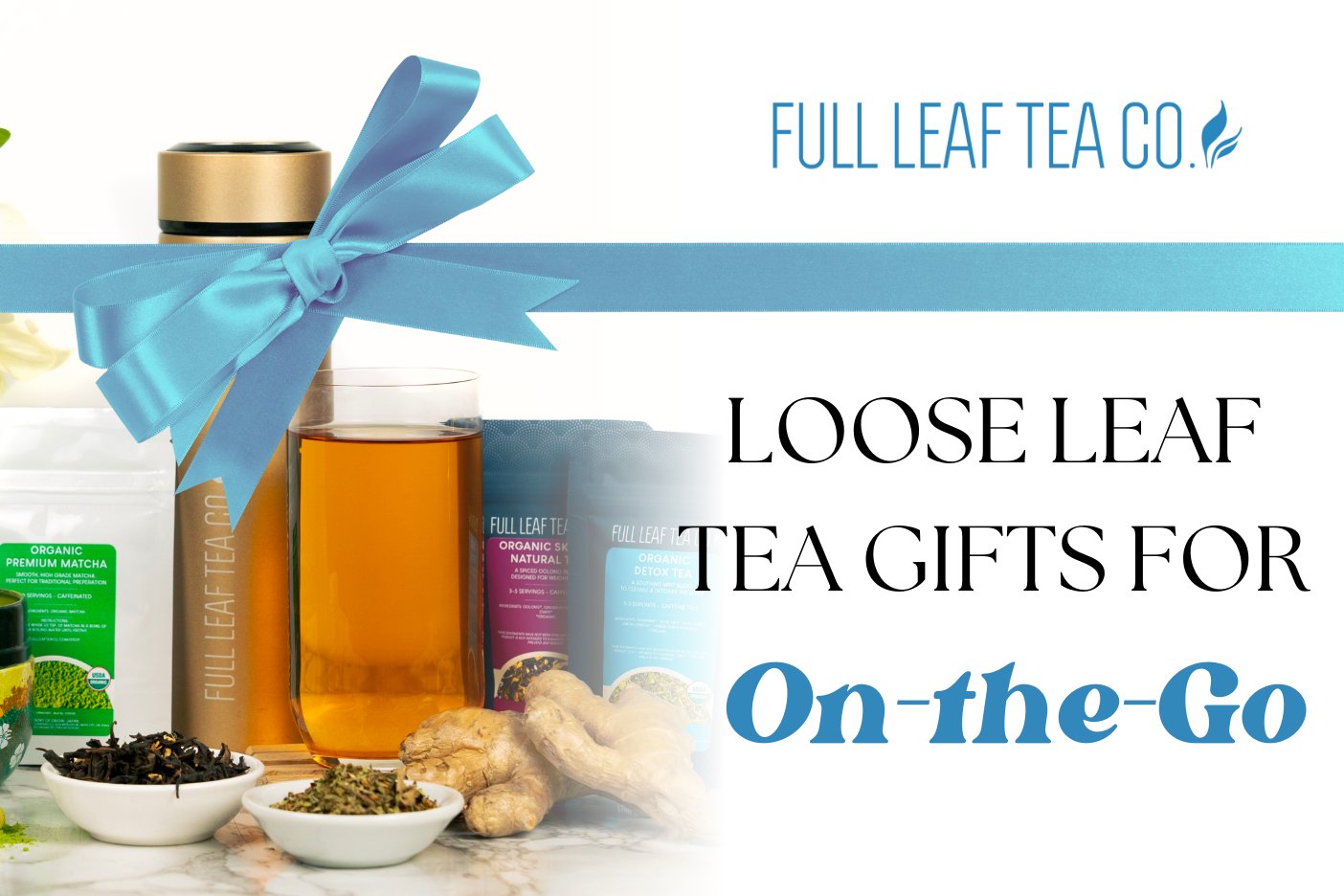 Loose Leaf Tea Gifts for On The Go
Katie Scofield
Picking Loose Leaf Tea Gifts for On The Go
In this all-encompassing gift guide, we'll explore a realm of delightful options designed for those on the go. From portable tea solutions to travel-friendly accessories, we've thoughtfully curated a selection of gifts that will help you express your love and appreciation in a truly unique and practical way. So, let's dive into the world of on-the-go tea enjoyment and discover the perfect gift to brighten her day, no matter where life takes them. 
Boost their mood and their energy!
Organic Green Energy- A lively and refreshing loose-leaf tea that blends the invigorating taste organic Holy Basil and the tang of organic Lemon Peel making it the ultimate energy booster. Each cup is packed with our most energizing ingredients: Yerba mate and matcha, combined with bursts of citrus to make a blend that is refreshing and revitalizing. It is perfect for those who want to enjoy a natural and delicious way to boost their energy and focus without the jitters of caffeine.
Organic Mint Mate- Made with premium spearmint and peppermint, this combination is complemented by the light flavor of our premium yerba mate. Enjoy the soothing flavor of mint with the energizing benefits of yerba mate! Energize your day with a mental clarity that only pure yerba mate can bring you. Packed with dozens of vitamins and minerals, and packed with caffeine, yerba mate has numerous health benefits including weight loss, disease prevention, mood-boosting and more!
Organic Live Fit Tea- Made with only organic herbs and loose leaf green tea, Live Fit will give you the boost you need to stay active and healthy. Live Fit was specially blended by our artisan tea blenders to boost energy, enhance workout results, and aid in recovery.
Organic Lemon Ginger Mate- efreshing and energizing! Made with only fresh, USDA organic ingredients, this blend combines the tart taste of citrus with the warming flavor of ginger. This "Full Leaf Favorite" is perfect for hot or iced tea. Energize your day with a mental clarity that only pure Yerba Mate can bring you. Packed with dozens of vitamins and minerals, and packed with caffeine, Yerba Mate has numerous health benefits including weight loss, disease prevention, mood-boosting and more!
Boost Their Wellness and Their Immunity!
Organic Immunity Blend- A herbal tea made from a blend of echinacea, elderberry, peppermint, and hibiscus, with a delightful Rooibos tea base that are known for their immune-boosting properties. 
Organic Cold Remedy- Battle colds naturally with our Organic Cold Remedy' a caffeine-free rooibos tea featuring cinnamon, rosehips, elderberry, ginger, and echinacea.
Organic Lemon Turmeric Tea- A perfect fusion of citrus and Turmeric! Turmeric imparts a flavorful punch to this exceptional wellness blend. Renowned as a superfood, Turmeric offers numerous health advantages, including immune system enhancement and cancer prevention.
Organic Adaptogen Tea- Formulated to support comprehensive mental and physical well-being, this tea is carefully crafted to alleviate stress, enhance cognitive function, and bolster overall health, with its intention being to adjust to your body's unique requirements.
Organic Detox Tea- Cleanse your body and mind with specially formulated to optimize health, blended to create the perfect balance of detoxification and healing to make you feel invigorated and renewed!
Organic Bloat Relief Tea-  A soothing blend of organic herbs carefully crafted to promote healthy digestion and alleviate bloating. This blend includes organic peppermint, ginger, fennel, and chamomile, holy basil and lemon balm which work together to reduce inflammation and ease digestive discomfort.
Tasty Teas That Could Be Iced!
Organic Hibiscus Tea-  A caffeine-free herbal tea made from the dried hibiscus flower. It has a vibrant red color and a tangy, slightly sour taste with floral undertones. It is rich in vitamin C and antioxidants and is known to support cardiovascular health and aid in digestion. Its refreshing taste makes it an excellent choice for iced tea during hot summer months!
Sweet Cherry Berry- Sweet and Tangy. This blend of cherry, elderberry, rose hips, hibiscus, cranberry, blackberry, and raspberry, is guaranteed to make your taste buds jump! This tea is an alluring ruby-red color and is filled with bursts of tart and sweet flavors! Naturally decaffeinated.
Organic Peach Green Tea- A delightful and refreshing beverage that combines the natural goodness of green tea with the sweet and aromatic essence of ripe peaches. This tea is created by blending carefully selected organic green tea leaves with the essence of juicy peaches, resulting in a harmonious fusion of flavors. Try this one iced for an extra summery delight!
Organic Pink Grapefruit Tea-  A fun and fruity take on white tea! You'll love how the delicate white tea mixes with the delicious aroma of grapefruit. Hibiscus turns this blend into a beautiful pink color which gives the tea its name, Pink Grapefruit.
On The Go Kits !
Energize- Presenting the Energize On-The-Go Kit! Within this package, we've selected our preferred energy blends: Organic Green Energy and Organic Sleeping TranquiliTea.
Turmeric- Introducing our Turmeric On-The-Go Kit!  Everything you need to start brewing a perfect cup of tea is included in this exclusive set. You'll love the two teas included in this kit: Organic Turmeric Green Tea and Organic Turmeric Ginger Mate.
Feel Better-Introducing our Feel Better On-The-Go Kit! This exclusive set includes everything you need to brew a perfect cup of tea. You'll appreciate the two teas featured in this kit: Organic Throat Clarity and Organic Immunity Blend.
Matcha- Choose between either Ceremonial Matcha or Organic Premium Matcha, and use the bottle to quickly brew a perfect cup of matcha.  Made of stainless steel, the Vacuum Flask Infuser Bottle is perfect for hot or iced loose leaf tea or matcha. It keeps your drink at the perfect temperature for hours! Product dimensions for the flask are 8.75" in height by 2.5" in circumference.
Check out other gifts for On The Go!
A handy tip for those on the go is to prepare a few tea bags, pack them, and take them along throughout your day. This way, you'll always have a cup of tea ready to brew whenever you please!
We hope you've discovered the perfect teas and accessories that resonate for the On The Go person,  whether it's for yourself or someone special. Cheers to the joy of sipping, savoring, and sharing the love of tea!
If you didn't find what you're looking for, we would love to help. Contact us here!
Happy gifting!