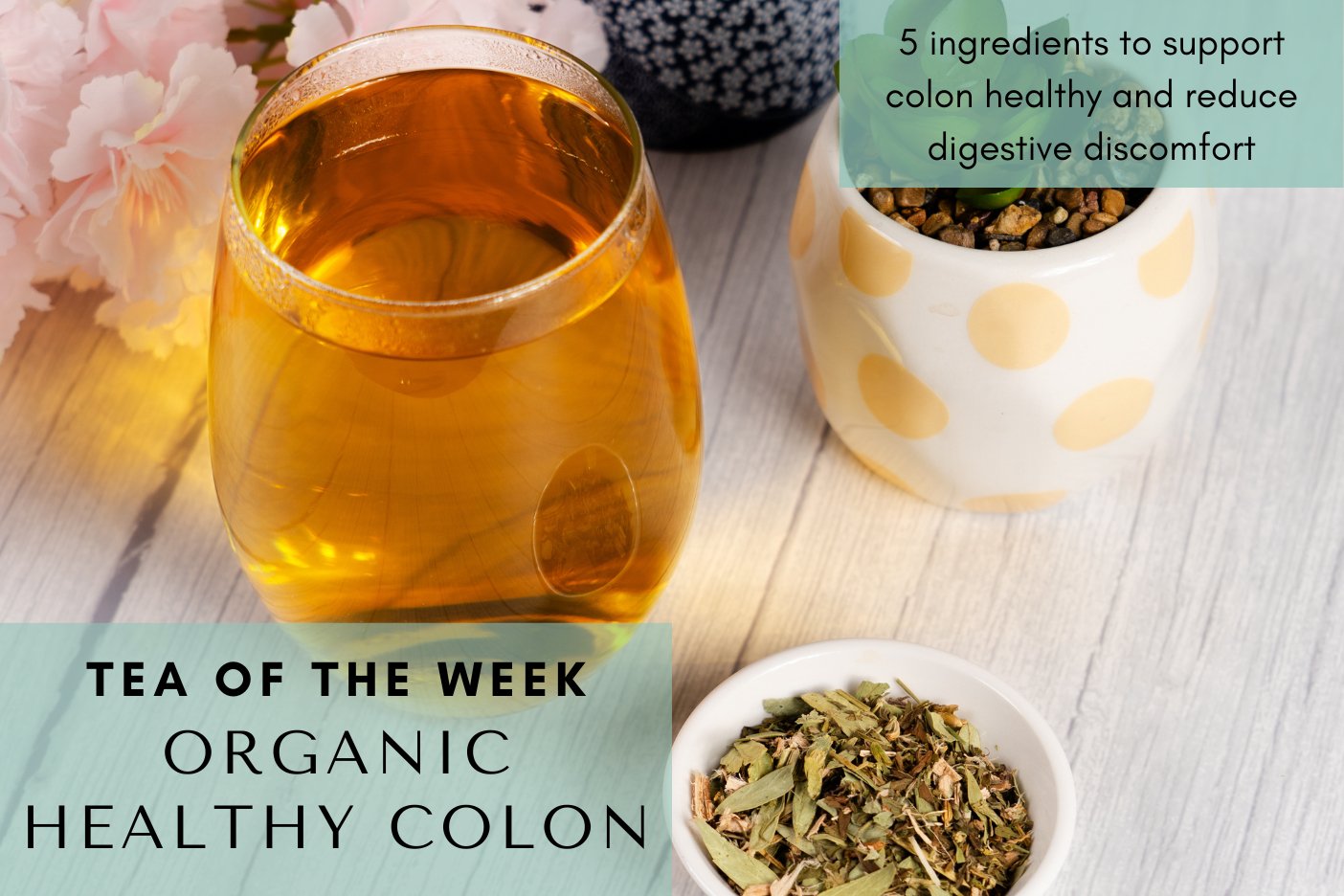 Organic Healthy Colon Tea | Tea of the Week
Carly Pearl-Sacks
Organic Healthy Colon Tea | Tea of the Week
Hey tea lovers! Welcome back to Tea of the Week. This week we are featuring Organic Healthy Colon Tea, a minty blend of 5 ingredients to support colon health, treat indigestion, inflammation, IBS, and more. 
Haley Sullivan
5 Powerful Ingredients
Organic Peppermint: Peppermint has many benefits for colon health. The menthol content in this herb helps to reduce digestive discomfort, including bloating. Peppermint is also known for its antioxidant content which can help reduce inflammation, promote healthy bowel movements, and alleviate constipation. 
Organic Chickweed: Chickweed is commonly used as a mild laxative to help alleviate constipation and is also known to reduce digestive upsets.

Chickweed also contains antioxidants, such as flavonoids and vitamin C, which can help protect cells from oxidative stress and may play a role in preventing colon cancer.

Organic Slippery Elm: Slippery elm has a high content of mucilage and is known for its soothing properties. The mucilage helps to coat the digestive tract, soothing pain and reducing inflammation. This coating can also help to promote healing in the digestive tract. Slippery elm's

mucilaginous properties can also help absorb excess moisture and provide relief from loose stools.

Organic Senna: Senna is an herb that is commonly used to treat constipation because of its mild laxative effects. Senna can also help to relieve stomach cramps, supports colon health, and can aid in detoxification. 
Organic Fennel: Fennel has many benefits for digestion. This herb can help to calm nausea, reduce stomach cramps, promote healthy digestion, relieve constipation, and reduce inflammation. Fennel is also known as an antiflatulent which can help to reduce bloating and gas. 
Shop Individual Ingredients
Highlighted 5 Star Reviews
"This tea is wonderful for moving a sluggish system along, and it does so gently. No running to the bathroom after this tea. Flavor is nice as well. I found it light and easy to drink. I got this as a sample with another purchased tea, and just happened to need it. Because it worked so well, I ordered a bag and will continue to keep this on hand."
"The Organic Healthy Colon Tea has a delicious flavor and is helping to keep my digestive cycle on track. I recommend for those who have stomach issues and experience constipation or bloating every now and then"
"I needed some regularity and found it, and enjoy daily tastes great."
Watch a video about Organic Healthy Colon Tea!
Shop Organic Healthy Colon Tea
See you next time!
Thank you for joining us once again for another exciting edition of Tea of the Week! 
This week, we featured Organic Healthy Colon Tea, a meticulously crafted herbal blend featuring five exceptional ingredients. This tea is designed to promote digestive health and prevent stomach issues, ensuring you enjoy a balanced and comfortable digestive experience.
Whether you're seeking to enhance your personal well-being or thinking about recommending this remarkable blend to a friend in need, Organic Healthy Colon Tea has firmly established itself as an great choice.
Make sure to check in each week for a new Tea of the Week! Until then, stay well, stay curious, and savor the soothing sips of Organic Healthy Colon Tea!