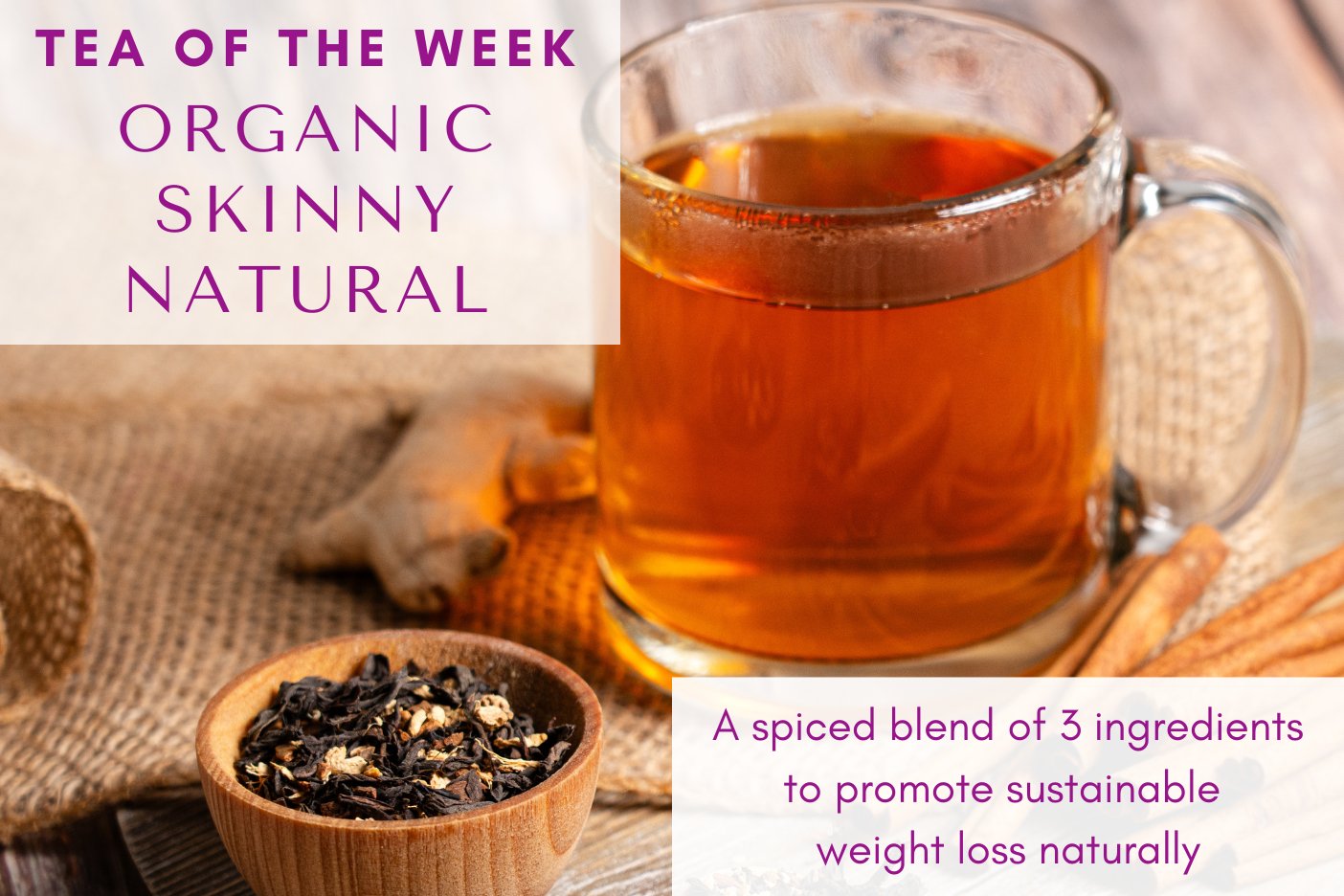 Organic Skinny Natural | Tea of the Week
Carly Pearl-Sacks
Organic Skinny Natural | Tea of the Week
Hey tea lovers! Welcome back to Tea of the Week! This week, we are looking at a blend that we have carried for quite awhile and has remained a popular favorite in our wellness collection since its creation. Organic Skinny Natural is a caffeinated blend thoughtfully crafted to naturally support weight loss, featuring just three organic ingredients.
Photography by Haley Sullivan
Not All "Skinny Teas" are Created Equal
Weight loss products have been around for decades and many "skinny teas" have hit the market in recent years. There can be a poor stigma around these products as they promise a "quick fix" that usually is unsustainable or untruthful and are filled with additives. 
Processed and unnatural weight loss teas often contain synthetic additives, stimulants, or laxatives that may lead to rapid but unsustainable weight loss. These products often prioritize short-term results over long-term health. 
In contrast, natural organic teas, such as those infused with ingredients like green tea, oolong, ginger, or cinnamon, harness the power of natural compounds and antioxidants. They work harmoniously with the body to support metabolism, control appetite, and encourage gradual and sustainable weight loss. 
Natural organic teas promote overall well-being and focus on holistic health, making them a preferable choice for those seeking a healthier, long-term approach to managing their weight.
3 Powerful Ingredients
Organic Oolong: Oolong is a traditional Chinese tea made from tea

leaves that are fermented for longer than green tea, but less than black tea. Oolong has been studied to show positive results for  weight loss because of its polyphenol content. The polyphenols and antioxidants in oolong can help to boost metabolism,

aid the body in breaking down and utilizing stored fat for energy, and regulating blood sugar levels.

Organic Ginger Root: Ginger root is a great ingredient for digestion and nausea but also has many benefits for weight loss! Ginger can help reduce cravings, regulate blood sugar, alleviate bloating, and boost the metabolism. 
Organic Cinnamon Chips: Cinnamon has many health benefits including boosting metabolism and increasing satiety. Cinnamon has also been studied to show that it can help the body burn fat by improving the way it processes vital nutrients. 
Shop Individual Ingredients
Highlighted 5 Star Reviews
"I don't normally remember to leave reviews but this one has been working so I thought I'd share. I bought the weight loss kit that also had the detox tea with the skinny tea. I've only been using the skinny tea every morning for the last 16 days. I just don't drink tea much at night so I haven't been using the detox since it doesn't have much caffeine. But I have noticed so much of a difference in my stomach so far. I have not been working out or really eating much healthier. My stomach has gotten flatter and started to look almost flat again. I had a baby 6 months ago and have had that extra flab there and have noticed a big change this week. I just purchased the bulk bag of the skinny tea to keep using it. Definitely happy with this product and will be trying a few other blends out as well!"
"I've lost 15 pounds since drinking this tea ! i don't work out at all but i do eat healthy & this tea has definitely sped up my weight loss progress i've been drinking 3tsps in a 30oz cup every morning for the last 2 months. It Helps curve my appetite & definitely helps with my bloating when i drink a cup after a meal. The flavor is good & comforting, i'll never go a day without this tea!!!"
"Refreshing and delicious! I've has some really herby skinny tea and though I don't mind a little extra earthy flavor to my tea, I was happy to find this tasting so light. I have found that if I don't drink it in the mornings, I become ravished quickly and am more tempted to break my fast. Also, the afternoon pick me up without the mind buzzing and the jitters is exactly what I need!"
Make a Recipe with Organic Skinny Tea
Watch a video about Organic Skinny Natural!
See you next time!
Thank you for joining us once again for another exciting edition of Tea of the Week! We're thrilled that you took the time to explore the wonderful world of tea with us. 
This week, we had the pleasure of highlighting Organic Skinny Natural, a loose leaf tea carefully crafted with a blend of three powerful herbs, all designed to help boost lose weight sustainably and naturally. 
Whether you're looking for a personal wellness boost or thinking of recommending this incredible blend to a friend in need, Organic Skinny Natural  has been a customer favorite for years. 
Once again, thank you for being a part of our tea-loving community. We look forward to sharing more tea discoveries with you in the weeks to come. Until then, stay warm, stay curious, and sip on!
Happy almost Thanksgiving, tea lovers! 🍂🍵