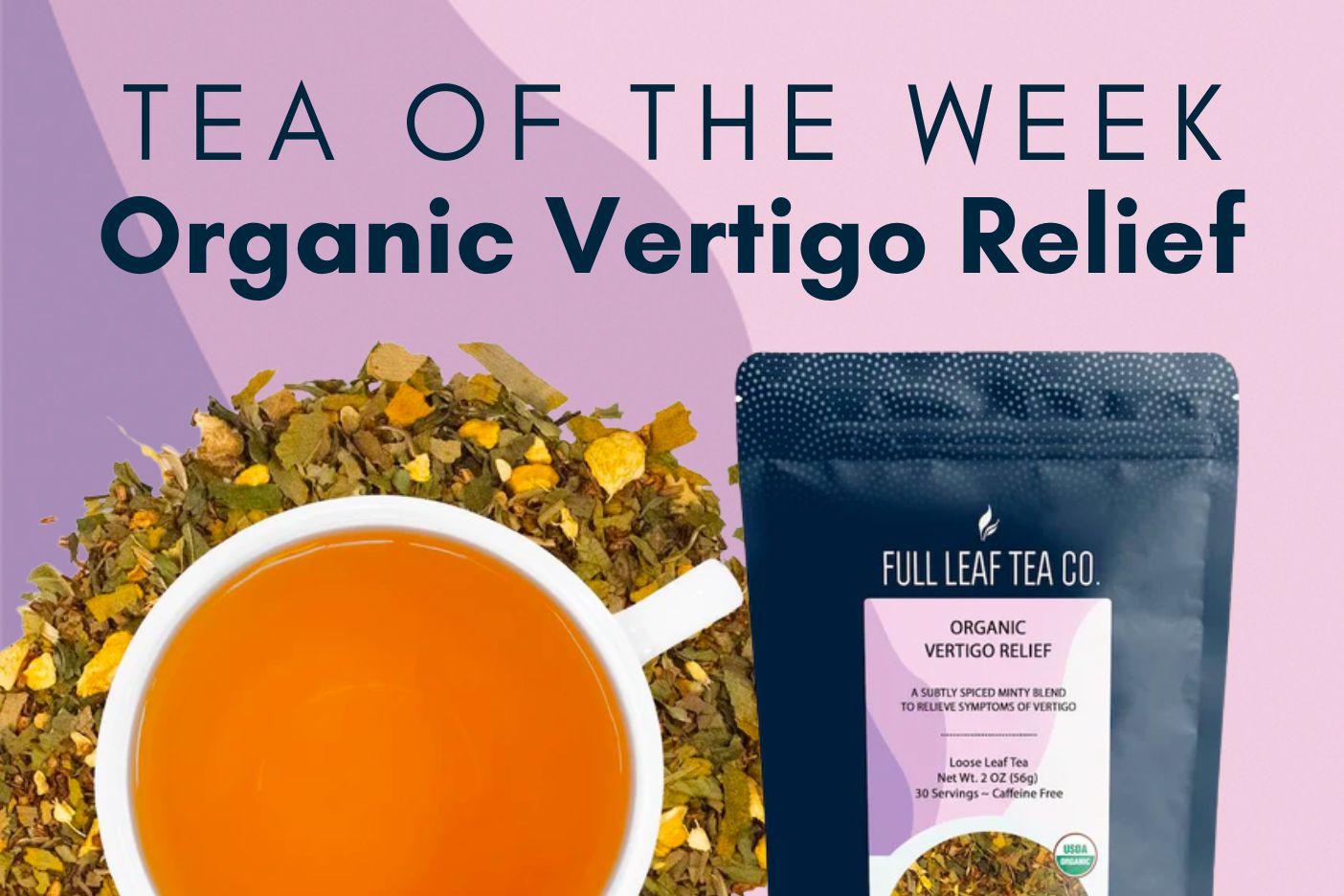 Organic Vertigo Relief | Tea of the Week
Carly Pearl-Sacks
Hey tea lovers! This week we are focusing on a newer blend that was created specifically for a personal friend of our CEO but has helped many others too! Organic Vertigo Relief has 6 organic ingredients to naturally decrease dizziness and imbalance. 
Ingredients
Organic Ginkgo: Ginkgo is a widely used natural supplement to help with symptoms caused by vertigo. This plant works by managing blood flow to the brain to relieve dizziness and balance issues. Ginkgo has also been shown to be helpful for memory loss and is full of antioxidants. 
Organic Ginger: Ginger appears in this blend to ease the nausea often caused by vertigo. Ginger can also reduce inflammation and has been shown to provide benefits for anxiety, depression, PTSD, and dementia. 
Organic Peppermint: Peppermint is another herb that is great for nausea, along with helping to relieve headaches and muscle tension. Peppermint adds a delicious minty and refreshing flavor to this blend. 
Organic Rooibos: Rooibos is an antioxidant packed plant and has been shown to help relax the body and mind. Rooibos has anti-inflammatory properties and can help protect against the free radical damage that leads to conditions like diabetes, heart disease and potentially cancer. 
Organic Turmeric: Turmeric is an ingredient with too many benefits to list! Turmeric appears in this blend specifically for its potent anti-inflammatory and antioxidant properties which can help to relieve headaches and other symptoms of vertigo.
Organic Black Pepper: Black pepper helps to improve the body's ability to process turmeric and other anti-inflammatory ingredients. Additionally, black pepper can improve gut health and reduce nausea. 
Recipe
Try this tea latte recipe using our Organic Vertigo Relief!