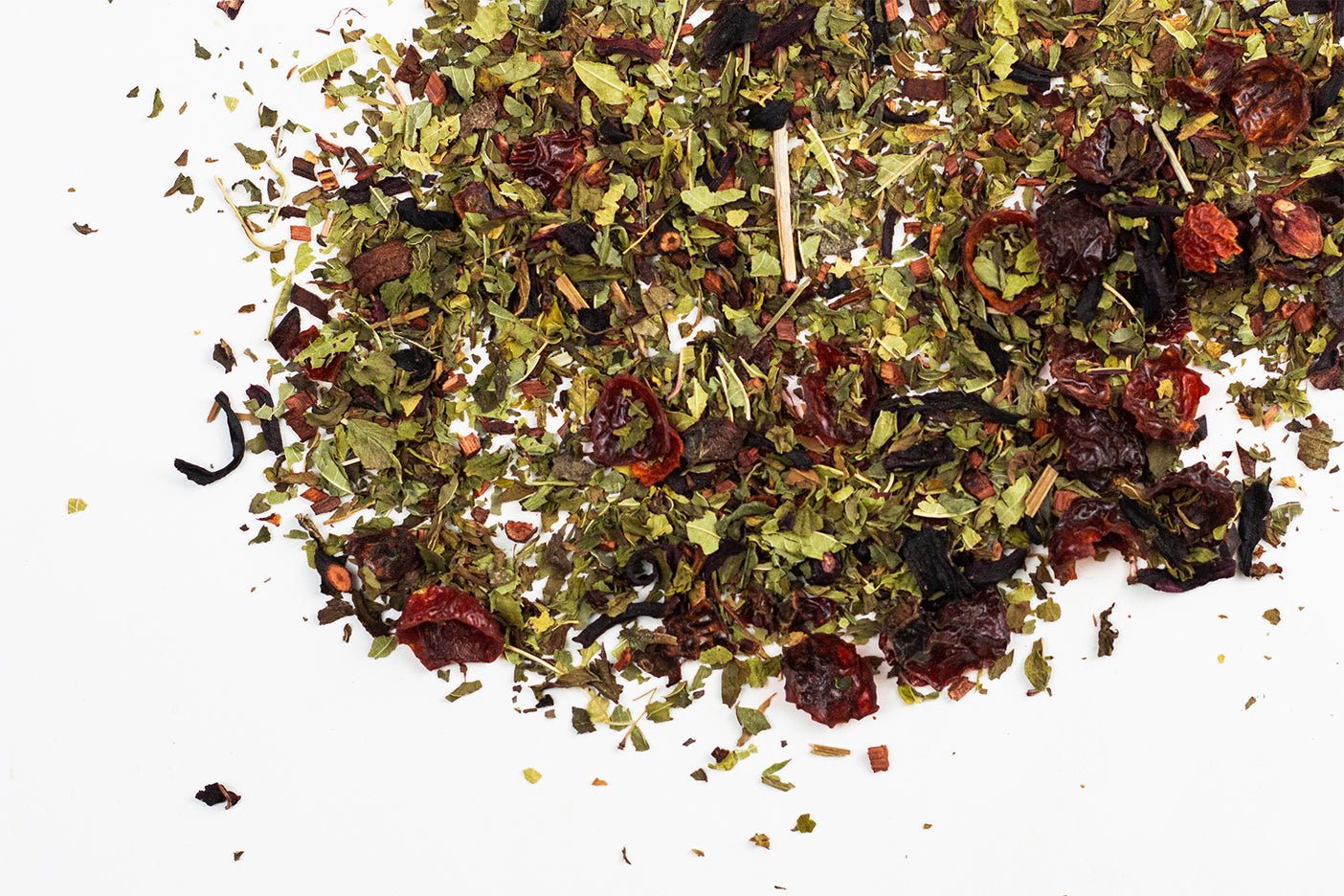 Tea of the Week | Organic Northwest Sunset 🌅
Carly Pearl-Sacks
Hey tea lovers! 
This week we are looking at one of my favorite herbal teas that we carry! From its balanced flavors to beautiful pink color, Organic Northwest Sunset is a winner in my book. 
Ingredient Breakdown
Even though this blend is not aimed at a particular ailment, you will see that every ingredient carries its own health benefits! 
Organic Honeybush: Honeybush comes from the Cyclopia plant and is a relative to rooibos. Honeybush gets its name from its delicate sweet flavor that is quite reminiscent of honey! Additionally, the plants' beautiful yellow flowers have a honey aroma. Honeybush is used as the base in this blend to add sweetness but honeybush also acts as an anti-inflammatory 
Organic Peppermint: Peppermint has a myriad of health benefits including improved digestion, relieving tension, improving sleep, and fighting bacterial infections. In this blend, it adds a delicious mint flavor and aroma. 
Organic Spearmint: Spearmint has very similar health benefits to peppermint but is also known to help with hormone imbalances, stress reduction, and lowering blood sugar. Spearmint has less of a minty flavor than peppermint does and is a sweeter type of mint leaf.
Organic Rose Hips: Rose hips pack a punch of benefits as well! Specifically, rose hips are known to improve skin, boost the immune system, and reduce joint pain. Rose hips add a sweet and floral note to this blend. 
Organic Hibiscus: Hibiscus add the pretty pink color to this blend along with fighting inflammation and boosting antioxidants. Additionally, hibiscus adds a tart note to balance the sweetness of this blend. 
Organic Lemon Verbena: Lemon verbena adds a citrus note to this blend along with providing health benefits including fighting colds, fevers, anxiety, indigestion, and insomnia. 
Recipe
If you need a new favorite summer drink, try this Creamy NW Sunset Limeade! Not only is it a beautiful color, it is an absolutely delicious drink! 
Video
Ready to learn more? Check out our video all about Organic Northwest Sunset 🤗