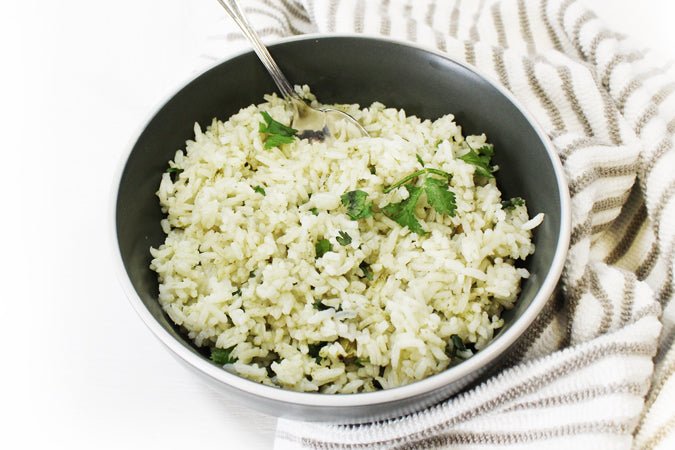 Green Tea Cardamom Rice
Moriah Sukraw
"I do not like green eggs and ham. I do not like them, Sam-I-Am."
Or, in this case, green rice.
Strange, I'm sure it sounds. And probably looks. But you have got to give this a try. Matcha + cardamom + rice = Best meal accent ever. The zesty, sweet notes of the cardamom, along with the earthy taste of matcha impregnate this rice with a blast of flavor. Use in wraps, serve with chicken, or make your own zesty bowl with this rice.
Just as a forewarning, I'm one of those people who adds garlic, onion, and lemon or lime juice to almost everything, especially rice – because it adds extra awesome. If you're not a fan, feel free to just pick and choose how you make your rice and I'm sure you'll find it's just as scrumptious.
INGREDIENTS
- 1 cup rice
- 2 (ish) cups water (explanation told below)
- 1 tbsp lime juice
- 1-2 tsp matcha of choice (Organic Premium or Organic Culinary will do the trick)
- 2 cloves garlic, chopped
- 3-4 cardamom pods
- dash of salt and pepper
- 1/3 cup chopped onion, sauteéd
- 1/3 cup fresh chopped cilantro
*sesame seeds optional
INSTRUCTIONS
I have an Instant Pot (seriously the best wedding gift ever) but you can also make this the classic way in a pan over the stove. I like how it makes the rice sticky without adding rice vinegar. Know that you don't have to add rice vinegar to the average way of making rice, but if you want that sticky quality, it's a good method.
INSTANT POT METHOD
1.) Measure out 1 cup of rice, and add to pot. Measure out 1 cup of water in a 2 cup liquid measurer (or higher), and add the 1 tbsp of lime juice to the measuring cup. Then, add the 1-2 tsp matcha, and stir. Finally, top off to the 2 cup line and pour into pot.  Note - I do the liquid measurement this way because otherwise it adds too much water and makes the rice mushy. Rather, this adds flavor to the water without adding too much liquid.
2.) Add garlic, cardamom pods, salt, and pepper to the pot, and let cook for average rice cooking time.
3.) While the rice cooks, sauteé the onions in a separate pan and chop cilantro to add once the rice is finished.
4.) Once done, release valve and add onion, cilantro, as well as any other toppings of choice. Enjoy!
REGULAR METHOD
1.) Using the same water method, add the matcha and lime juice to a 2 cup measure and pour into a pot on the stove. Bring to a boil.
2.) Add rice to boiling water and stir once to separate any clumps. Add chopped garlic, cardamom pods, and salt and pepper. Cover the pot and turn down the heat to the lowest setting. Let simmer for about 18 minutes, remove from heat and let stand for about 5 minutes.
3.) Like previously mentioned, sauteé some onions in a separate pan while rice cooks to add once the rice is done. Be sure to chop the cilantro during this time as well.
4.) Once rice is finished, fluff with a fork and add onion, cilantro, as well as any other toppings of choice. Enjoy!
*I usually leave the cardamom pods in to continue flavoring the rice once it refrigerates, and just pick them out later. You'll want to pick them out later because trust me, they are not fun to eat by themselves!
Local organic kimchi is a personal favorite of mine to add to rice, but feel free to add all kinds of your favorite things, like soy, teriyaki, avacado, tofu, etc. and get creative where you use this rice! The possibilities are just beginning.
Try it, and you may just like it.
"Try them and you may, I say."
"Say! I like green eggs and ham!
I do! I like them, Sam-I-Am!"