Organic Mullein tea is made from the leaves of the Mullein plant, which has a long history of use in traditional medicine. Recommended for asthma, coughs, colds, bronchitis, and COPD, mullein leaf tea is a powerful herb that helps expel mucus and has anti-inflammatory properties. This caffeine-free herbal tea has a mild, earthy taste and is often enjoyed for its calming and comforting effects on the body. It is a popular choice for those looking for a natural and gentle way to support their respiratory health.
Caffeine Content: None
This smooth, subtle tea has hints of mint that make for a pleasant drinking experience.
Add 1-2 teaspoons of tea to 8 oz of boiling temperature water
Let the tea steep for 5-7 minutes
For best results, use filtered water (water can really affect the taste of the tea if it is not filtered).
Organic Mullein Tea
Fight colds, coughs, and asthma with mullein leaf tea. This soothing herb has been used for centuries and has extensive research history.

Packed with antioxidants, vitamins, and minerals, Organic Mullein Leaf Tea can be enjoyed any time of day because it is caffeine-free!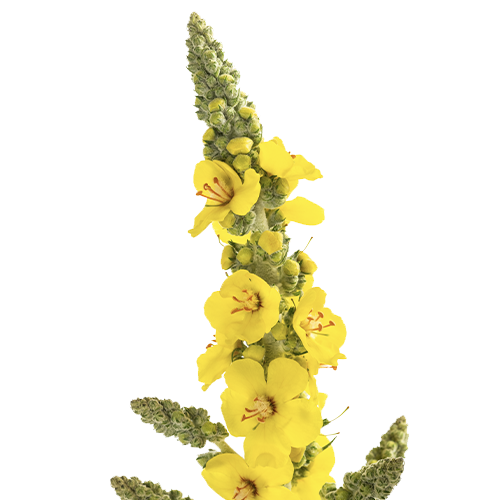 Ratings & Reviews for Organic Mullein Tea
Love this !!!
I have asthma and it got super bad cuz I ran out of meds. This helped calm my attacks. Opened up my lungs I could feel the mucus relief as soon as I took first gulp..going to buy more for sure!!!!
Would definitely recommend
I was worried about the taste at first, however I quite enjoy it. It's not over powering and good quality. I started drinking it, because after having covid-19 2 time in 2020, I've delt with almost 2 years of long term lung issues and this was suggested by another covid-19 patient. I've noticed a relief in discomfort, and its seems to have helped with some of my lung congestion. I would definitely recommend for those needing to relieve lung congestion.
Well Pleased.
Upon receiving and consuming, my Organic Mullein Tea, I truly say, this product is everything, it's advertised to be and some.
After a brief bout with COVID-19, this product has allowed me to enjoy the quality of breathing I, once enjoyed, prior to my encounter of the virus.
Organic Mullein Tea
I love this tea! I was having some upper respiratory issues. Clears the mucus from my lungs and helps me breathe easier!
I love this tea ,
I love this tea , I was able to feel a lot better after just one cup would definitely recommend
Product title
$19.99 | $24.99
Product title
$19.99 | $24.99
Product title
$19.99 | $24.99
Product title
$19.99 | $24.99