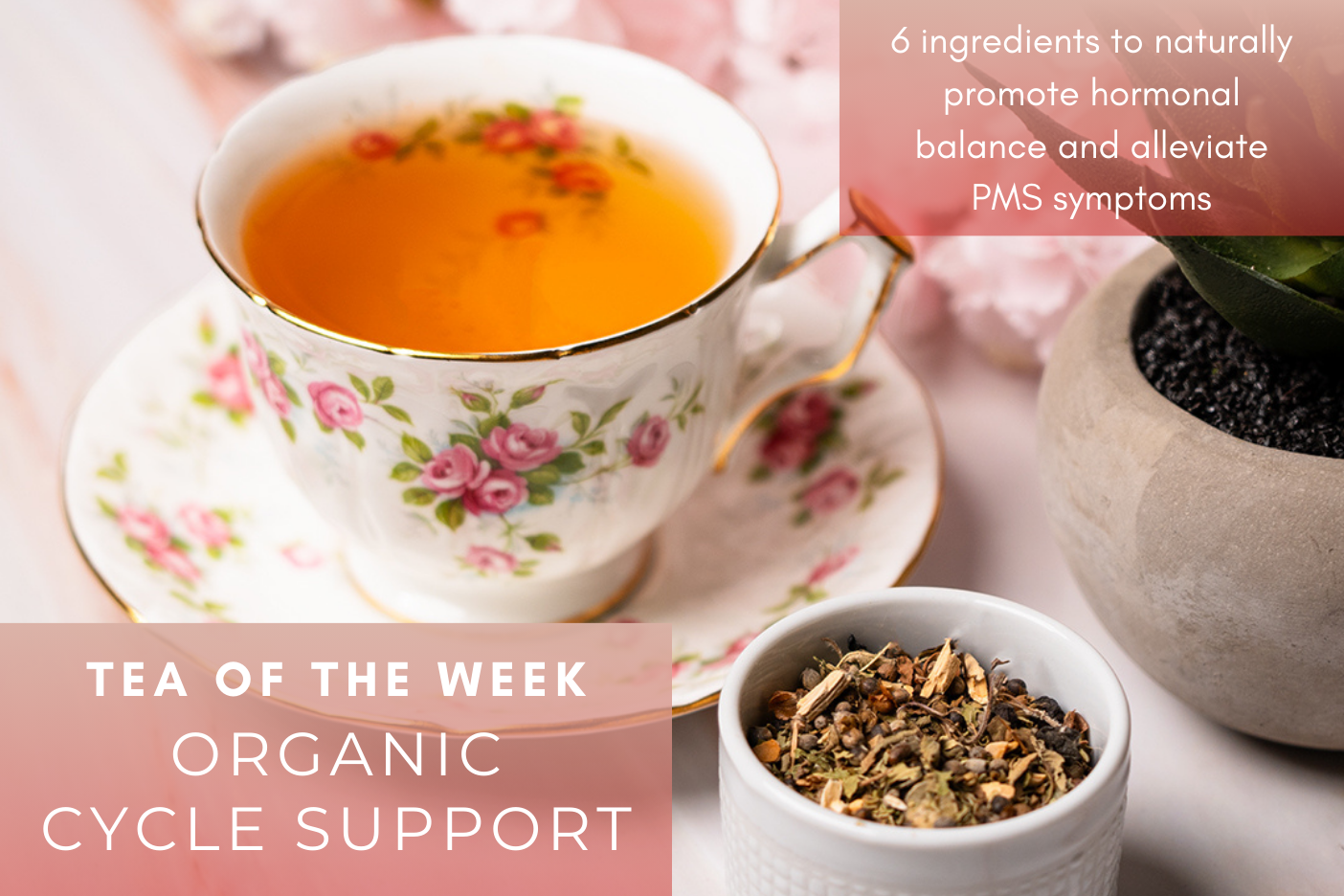 Organic Cycle Support | Tea of the Week
Carly Pearl-Sacks
Organic Cycle Support | Tea of the Week
Hey tea lovers! Welcome back to Tea of the Week. It's spooky season so we are featuring a tea for the spookiest time of the month! Let's explore Organic Cycle Support.
Haley Sullivan
6 Powerful Ingredients
Organic Schisandra Berries: Schisandra berries offer a range of benefits for women's health, especially during their menstrual cycle. Packed with antioxidants and adaptogenic properties, schisandra berries can help alleviate menstrual cramps and reduce overall discomfort. Anti-inflammatory properties can also assist in managing bloating and hormonal fluctuations, providing relief for common menstrual symptoms. 
Organic Shatavari: Shatavari is an adaptogenic herb known to help regulate hormonal imbalances. Shatavari's anti-inflammatory properties can alleviate menstrual cramps and reduce bloating and it supports overall reproductive health.
Organic Vitex: Vitex, derived from the chaste tree berry, is widely known for its ability to regulate hormonal imbalances and alleviate PMS symptoms. Vitex can reduce the severity of menstrual cramps, breast tenderness, and mood swings. 
Organic Holy Basil: Holy basil, known for its adaptogenic and medicinal properties, offers various benefits for women's health, particularly during menstruation. Its anti-inflammatory and analgesic properties can help alleviate menstrual cramps and reduce discomfort. Holy basil's stress-relieving qualities can assist in managing hormonal fluctuations and emotional symptoms associated with PMS.
Organic Lemon Verbena: Lemon verbena's high antioxidant content can help reduce inflammation and provide relief from menstrual cramps and bloating. Lemon verbena's calming properties may also assist in managing stress and anxiety, which can exacerbate PMS symptoms. 
Organic Saw Palmetto: Saw palmetto, derived from the berries of the saw palmetto plant, has anti-inflammatory properties that can help reduce menstrual cramps and discomfort. Additionally, saw palmetto is known for its potential to support hormonal health by regulating the production of certain hormones, which can be beneficial for managing conditions like polycystic ovary syndrome (PCOS) or hormonal imbalances that affect the menstrual cycle.
Shop Individual Ingredients
Highlighted 5 Star Reviews
"I have PCOS and hadn't had a period for more than a year and half...then I started drinking this tea daily for 1-2 weeks and wala! It's a huge relief for me since I've never reacted well to birth control pills that doctors have prescribed to help regulate my cycle. This is a wonderful alternative and it's so tasty too!"
"I have been struggling with my cycle for the last couple of years and this tea really helped regulate my cycle. My cycle is now on time and there has been a significant decrease in menstrual cramps."
"I have been drinking this just about daily for over 6 months now. I can tell it has made a difference in Lessing mood swings and headaches. This a great tea."
Make a Recipe with Organic Cycle Support
Watch a video about Organic Cycle Support!
See you next time!
Thank you for joining us once again for another exciting edition of Tea of the Week! We're thrilled that you took the time to explore the wonderful world of tea with us. 
This week, we had the pleasure of highlighting Organic Cycle Support, an herbal loose leaf tea carefully crafted with a blend of six powerful herbs, all designed to help balance hormones and alleviate PMS symptoms that can disrupt your daily life.
Whether you're looking for a personal wellness boost or thinking of recommending this incredible blend to a friend in need, Organic Cycle Support has proven itself to be an excellent choice. It's a holistic approach to managing hormonal fluctuations and finding comfort during those challenging days.
Once again, thank you for being a part of our tea-loving community. We look forward to sharing more tea discoveries with you in the weeks to come. Until then, stay warm, stay curious, and sip on!
Happy spooky season, tea lovers! 🍂🎃🍵